Regular price
RM 127.00
Sale price
RM 114.30
Unit price
per
10% Off
Sold out
This Organic Skin Brightening Set has
1 Strawberry Face Wash (60 ml / 2.1fl oz)
1 Strawberry Facial Bar (25 gms / 0.9 oz)
1 Sandalwood Face Pack (120 gms / 4.3 oz)
1 Fruit Splash Soap (75 gms / 2.7 oz)
1 Perky Peach Soap (75 gms / 2.7 oz)

1 Sunscreen Lotion SPF 30 (
110 ml / 4 fl oz
)
1 Fairness Moisturiser (110 ml / 4 fl oz)
1 Vitamin C Toner ( 110ml / 4 fl oz)
1 Anti Ageing Cream (30 gms / 1.1 oz)

for a complete skin care regime.It has skin friendly products which are suitable for all skin types such as dry, combination and oily skin.
Note: Products in the set are subject to availability
BENEFITS

This skin care set comprises of the following 

Strawberry Scrub Face Wash (60 ml / 2.1 fl oz) 

Specially developed to fight dry and flaky skin condition, this face wash deeply nourishes and moisturizes the skin. While Strawberry mildly exfoliates the skin to remove dead skin cells and flakes from the surface, anti-oxidant and vitamin-rich Mulberry hydrates the skin and helps it repair faster.


 Strawberry Facial Bar  (25 gms/0.9 oz)

This facial bar has excellent deep cleansing properties and gently exfoliates to even out skin tone. The rich multivitamin content of Strawberry, Almonds and Grape seed helps fight pigmentation and signs of premature ageing.


Fruit Splash Soap

The perfect combination of multivitamin-rich fruit extracts; this soap is bound to nourish your skin from within. While cleansing, its molecules penetrate deep into the skin to feed the skin cells with essential nutrients; granting your skin health inside & beauty outside!

Perky Peach Soap

A unique combination of natural essentials, this soap makes your skin luminous from within. It boosts blood circulation & cellular renewal, while keeping skin well hydrated. Thus it promotes newer & healthier cells; granting your skin a natural radiance!

Fairness Moisturiser (110 ml/ 4 fl oz)

This dual-action formulation effectively lightens your skin tone while deep-moisturizing it. The presence of Vitamin-C-rich Mandarins externally lightens the complexion. On the other hand, the Silk Extract works from the inside, by controlling the production of skin-darkening pigment, melanin. Together they grant you a softer, smoother & fairer complexion.

Anti Ageing Cream (150 gms / 5.3 oz)

Enriched with the multi-vitamin content of Almonds, Wheatgerm& Rose, this cream has been specially developed to fight signs of aging. With Vitamin A & E, potent anti-oxidants, this cream promotes cellular renewal, while boosting production of collagen & delaying wrinkles. It keeps your skin supple & youthful.


Sandalwood Face Pack  (120 gms/ 4.3 oz)


Scientifically made skin whitening treatment that also reduces skin blemishes and removes skin pigmentation marks.

Sunscreen Lotion SPF 30 (110 ml / 4 fl oz)

An all-season essential, this non-greasy lotion protects the skin from harmful UV rays of the sun and prevents it from tanning. The Lilac extract protects the skin against sun burn, while soothing it post exposure. Its anti-oxidant components act as a shield and prevent damage to the skin cells due to over-exposure to the sun's rays.

Vitamin C Toner ( 110ml / 4 fl oz)

This unique Vitamin C rich Toner with Niacinamide and Orange Peel extract is a revitalizing, anti-oxidant rich toner that instantly refreshes dull skin, tightens enlarged pores, reduces dark spots, and imparts a natural glow. 
HOW TO USE

Strawberry Face Wash:- Squeeze Out A Small Quantity On Wet Palms. Scrub The Jojoba Beads On Wet Face In Slow Circular Motion And Workout Lather. Wash Off, Pat Dry.


Sandalwood Face Pack :- Apply A Generous Amount Of This Pack On Face And Neck, Avoiding Eyes. Relax Till Completely Dry. Rinse With Fresh Water. Follow With Vaadi Herbals Sun Shield Sunscreen Cream.

Strawberry Facial Bar :- Apply Over Wet Face And Neck. Gently Work Up Rich Lather. Massage Gently In Circular Motion. Rinse Off And Pat Dry.

Perky Peach Soap :- Take Soap And Lather In The Hands. Apply The Lather To The Entire Body, Gently Massage And Enjoy The Pure Delight Of Our Herbal.


Fruit Splash Soap :- Take Soap And Lather In The Hands. Apply The Lather To The Entire Body, Gently Massage And Enjoy The Pure Delight Of Our Herbal.

Sunscreen Lotion SPF 30 :- Apply Liberally And Evenly On Face And Exposed Parts Of Body (Neck, Arms, Legs Etc.) Before Exposure To Sun.

Fairness Moisturiser :- Apply Vaadi Hand & Body Lotion All Over The Body, Arms And Neck In The Morning And At Night. Gently Massage Till Totally Absorbed.


Vitamin C Toner :-Evenly spray on face and body with eyes closed or spray twice on cotton swab and swipe it across your face.Allow the skin to air dry. Follow it with Vaadi Vitamin C Face Cream.

Anti Ageing Cream :- Cleanse Face. Apply Lavishly All Over The Face And Neck. Gently Massage In Upward Direction. Use Daily Morning And Before Going To Bed At Night.

COMPLETE INGREDIENTS

Ingredients : 

Almond Oil (Prunus Amygdalus Dulcis Oil), Orange Extract (Citrus Aurantium Amara Extract), Honey (Mel Extract), Apricot Extract, Vitamin E, Walnut, Saffron Extract, Sandal Extract, Manjistha Extract, Vitamin E, Mandarin Extract, Silk, Lavender Extract, Lilac Extract, Goat Milk, Saffron Extract, Turmeric Extract, Cucumber Extract, Pink Rose, Honey, Manjistha Extract, Shea Butter (Butyrospermum Parkii Butter), Sunflower Extract ( Helianthus Annuus Extract), 

DM Water (Aqua)



Share
View full details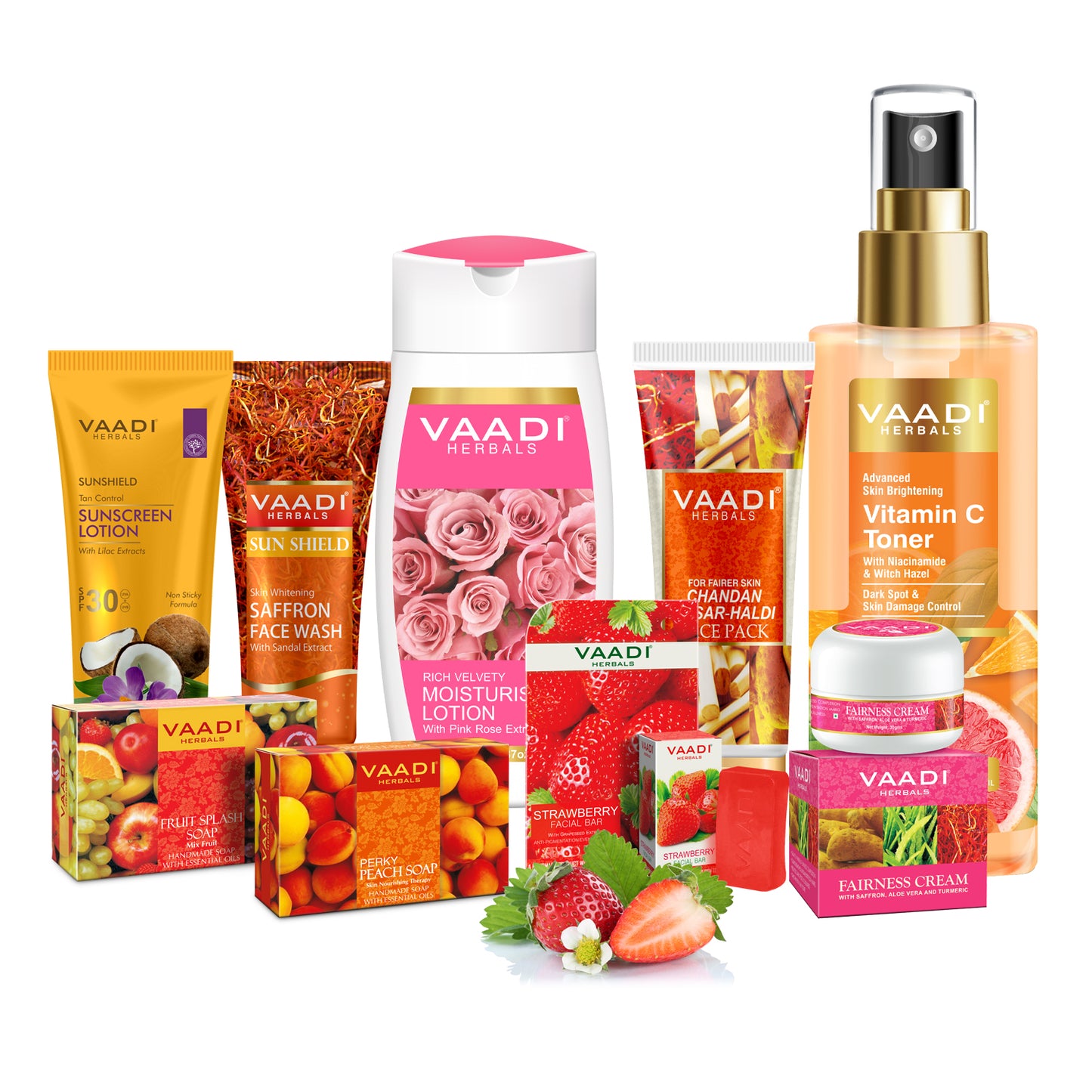 ORGANIC FARMS
Vaadi Organics is involved in very strategic procurement of a huge selection of organic ingredients for its entire range of personal care, spa, massage and aromatherapy applications. Organic ingredients are carefully selected for their quality and properties in skin, hair and complete beauty treatments. The range of ingredients sourced include therapeutic essential oils, berry seed oils, and some oils from the tropical rainforests of the Amazon.
Read More