Regular price
RM 145.00
Sale price
RM 130.50
Unit price
per
10% Off
Sold out
An extremely rich composition of Saffron, Sandal and numerous other Herbal ingredients, this Facial kit improves skin complexion and provides you with spotless skin. It also reduces fine lines and wrinkles and improves skin elasticity
BENEFITS

Product Include:

Saffron-Sandal Cleansing Cream Saffron-Sandal Face Scrub Saffron-Sandal Massage Gel Saffron-Sandal Massage Cream Saffron-Sandal Face Pack

SAFFRON-SANDAL CLEANSING CREAM

This rich composition of Saffron & Sandal paste, smoothly but effectively cleanses all impurities, oil, dirt & sebum from the facial skin. Sandal cools the skin and keeps it supple and elastic. Active Ingredients:Saffron, Sandal Paste, Orange Peel Extract, Turmeric, Lemon grass Oil.

SAFFRON-SANDAL FACE SCRUB

A unique composition of multiple herbal ingredients, rich in antioxidants, this scrub effectively exfoliates the facial skin. Grapefruit oil fights free radicals and avoids degeneration of tissues. It treats acne & pimples and makes your skin super clear. Active Ingredients: Saffron, Sandalwood, Cinnamon Oil, Walnut Scrub, Grapefruit oil

SAFFRON-SANDAL MASSAGE GEL

A rich composition of Saffron, Sandal & Multivitamins, this scientifically designed gel, removes dark skin patches, clears skin blemishes & pigmentation marks thereby giving a rosy glow to the facial skin. Makes your skin spotless and super smooth. Active Ingredients:Saffron, Sandalwood oil, Multivitamins A,B,C & E, Red Cedar Oil.

SAFFRON-SANDAL MASSAGE CREAM

This rich composition of saffron and various oils, improves skin complexion and feeds the skin with all important minerals and vitamins. Lemongrass oil reduces skin puffiness and excessive perspiration. Sandalwood oil reduces under eye circles and removes freckles and spots on your facial skin. Active Ingredients:Saffron, Sandalwood oil, Basil oil, Lemongrass oil, Shea butter, Manjistha.

SAFFRON-SANDAL FACE PACK

Enriched with pure sandal paste, this scientifically designed Face Pack reduces fine lines and wrinkles and improves skin elasticity. It also removes pigmentation marks and blemishes. Makes your skin fairer, super smooth and clear. Active Ingredients:Saffron, Sandal paste, Lemongrass oil, Multivitamins A,B,C & E, Manjistha.
HOW TO USE

Cleansing Cream:- Apply A Generous Layer On The Face And Neck. Massage Gently In Circular Motions For 5-7 Minutes. Rinse Thoroughly Or Remove With Moist Cotton.

Face Scrub:- Moisten Face And Neck, Then Take Appropriate Amount Of The Scrub. Scrub Gently With Circular Movements With Upward Strokes For Atleast 5 Minutes. Wipe Off With Damp Cloth.

Massage Cream:-Take An Appropriate Amount Of The Cream On Your Finger Tips And Apply All Over The Face And Neck. Massage With Firm Circular, Upward And Outward Movement Till It Is Completely Absorbed In The Skin.

Massage Gel:- Apply A Scoop Of The Gel, Gently Massage All Over The Face And Neck In Circular Upward Direction Until It Gets Absorbed In The Skin Completely.

Face Pack :- Take The Pack On Your Finger Tips. Apply A Thick Layer Evenly All Over The Face And Neck Avoiding The Eye Area. Keep It On For About 30 Minutes Or Until Dry. Rinse Off With Water. Pat Dry.
COMPLETE INGREDIENTS

Ingredients :Saffron Extract (Crocus Sativus Flower Extract), Sandal Paste (Santalum Album Oil), Lemongrass Oil (Cymbopogon Schoenanthus Oil), Vitamin A (Retinol), Fullers Earth (Fullers Earth), Manjistha Extract (Rubia Cordifolia), vitamin B, vitamin C, Vitamin E (Tocopheryl Acetate), Dm Water (Aqua)
Share
View full details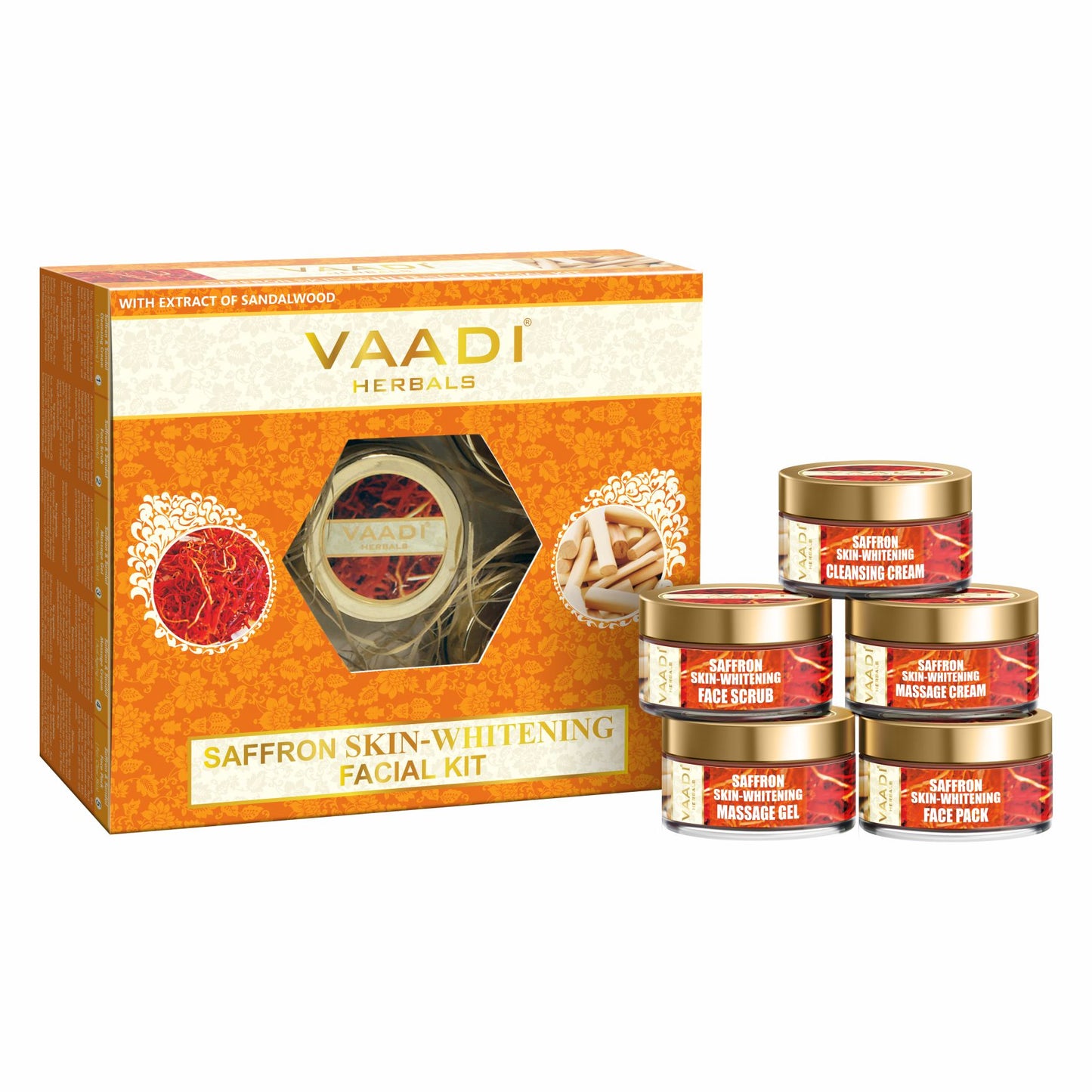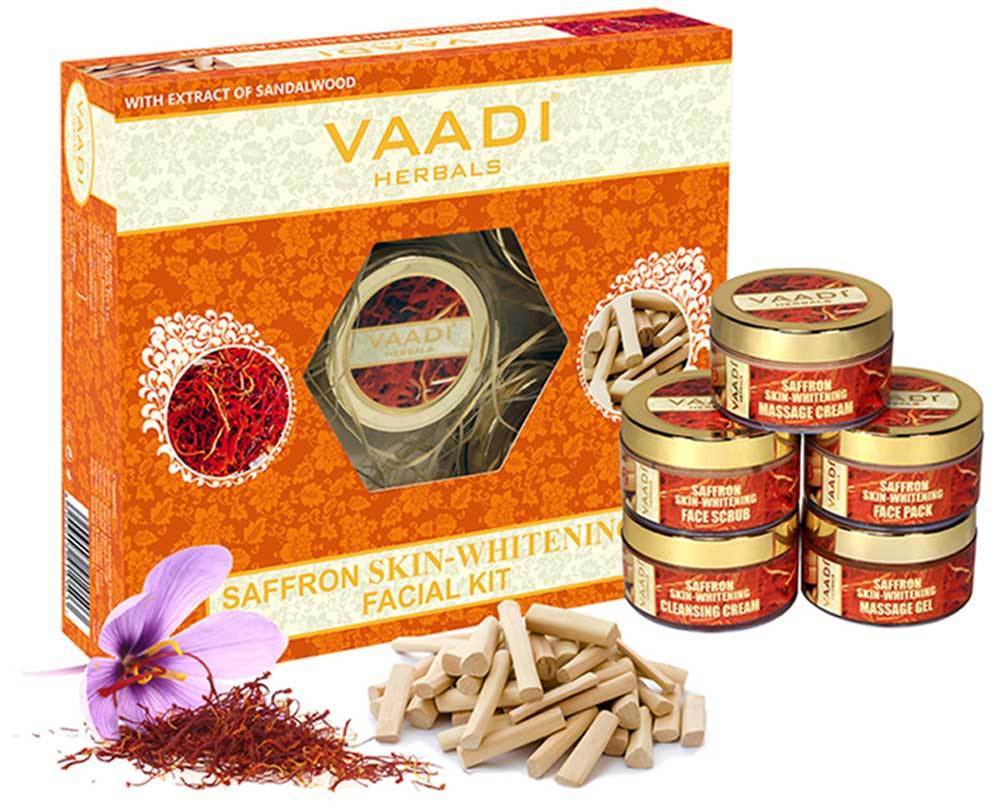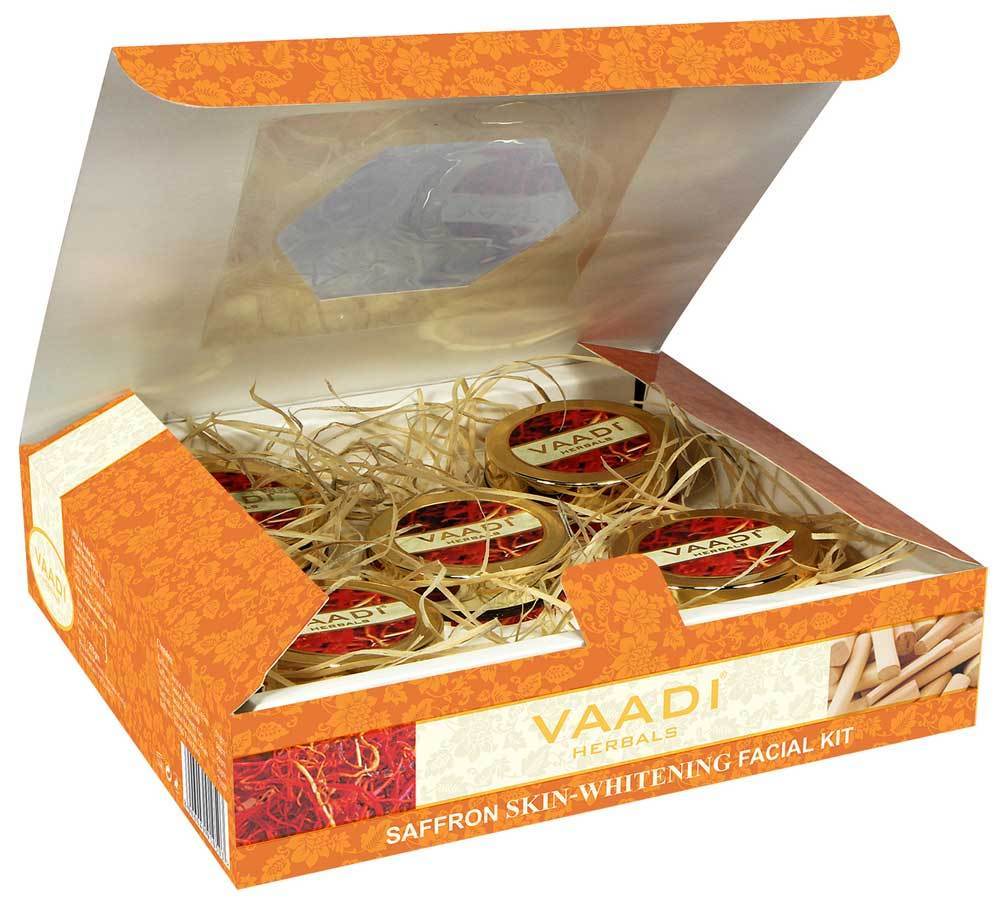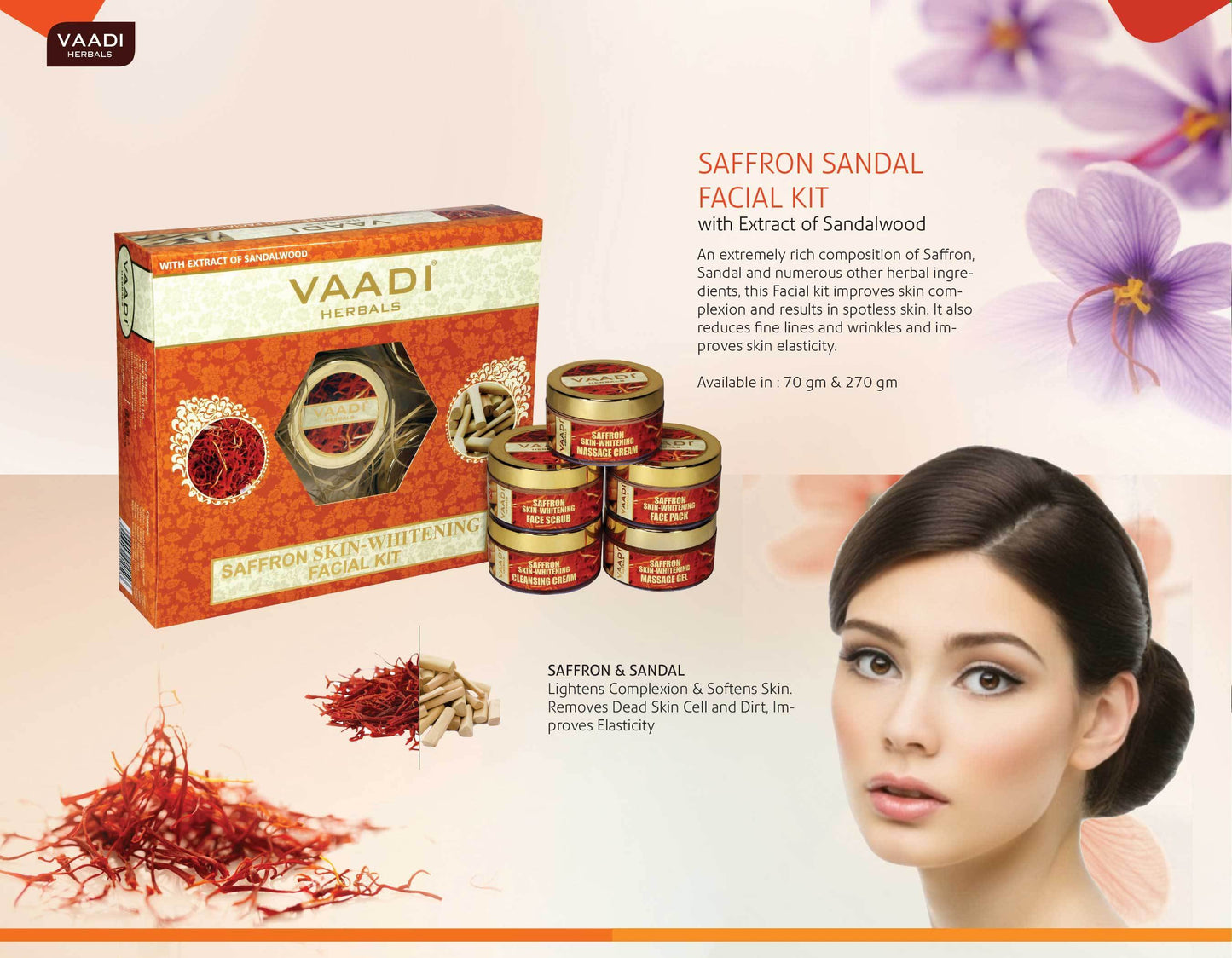 ORGANIC FARMS
Vaadi Organics is involved in very strategic procurement of a huge selection of organic ingredients for its entire range of personal care, spa, massage and aromatherapy applications. Organic ingredients are carefully selected for their quality and properties in skin, hair and complete beauty treatments. The range of ingredients sourced include therapeutic essential oils, berry seed oils, and some oils from the tropical rainforests of the Amazon.
Read More