Regular price
RM 40.00
Sale price
RM 32.00
Unit price
per
20% Off
Sold out
Specially developed to fight dry and flaky skin condition, this face wash deeply nourishes and moisturizes the skin. While Strawberry mildly exfoliates the skin to remove dead skin cells and flakes from the surface, anti-oxidant and vitamin-rich Mulberry hydrates the skin and helps it repair faster
BENEFITS

What causes a dull complexion ?

Sun & Wind Exposure Excess Oil Secretion Dryness Pigmentation Acne and Scars Undernourishment due to Vitamin Deficiency Lack of Blood Circulation Stress All the above end up robbing off the shine and attraction off the skin leaving it parched and just another face in the crowd. Skin looks uncared for and brings us across as yet another commoner. A glowing clear skin exhibits health and maintenance. A perfect blend of Strawberry and Mulberry Extracts can bring about that dramatic change in your skin you wouldn't stop praising!

How do Strawberry Extracts renew and impart freshness to the skin ?

Strawberry can be dubbed as the 'beauty fruit' for it brings about an instant makeover inside out. Oozing salicylic acid, strawberries ward off the dead epidermal layer that gets accumulated on the surface and results in that lack-luster show. Strawberry extracts are a boon for acne prone skin as strawberries help in shrinking the pores and regulation of sebum production thereby aiding in skin polishing and lightening the skin tone. Strawberry Extracts in the scrub gently exfoliate the skin, improving the blood circulation and going deep to unclog pores. The tiny strawberry particles facilitate a visible reduction in fine lines and wrinkles as the skin is thoroughly moisturized, diminishing any dark and dry patches. High content of Zinc and Vitamin C cures pigmentation, blemishes and post-acne scars miraculously. The complexion is beautiful, skin smells fabulous and looks squeaky fresh, always.

How do Mulberry Extracts bring out a gorgeous, cleansed skin ?

Mulberry Extracts are gentle enough to not harm the skin surface, yet potent enough to dwell deep within the skin's layers to yield a kissable, glowing complexion. Mulberry Extracts have tyrosinase inhibiting properties. They slow the production of Melanin which is responsible for skin-darkening thereby facilitating skin whitening and brightening. Mulberry Extracts contain a plethora of free radicals which help in proper oxygenation of the skin. This helps in absorption of the vital nutrients that tone the skin from within. These extracts never irritate the skin. They gently bring about a makeover and the skin glows with health, shines flawlessly."
HOW TO USE

Squeeze Out A Small Quantity On Wet Palms. Scrub The Jojoba Beads On Wet Face In Slow Circular Motion And Workout Lather. Wash Off, Pat Dry.
COMPLETE INGREDIENTS

Ingredients : Strawberry Extract (Fragaria Vesca), Cucumber Extract (Cucumis Sativus), Pure Aloe Vera Extract (Aloe Barbadensis), Coconut Oil Derivative (Cocos Nucifera), Mulberry Extract (Morus Alba), Honey (Mel Extract), DM Water (Aqua)
Share
View full details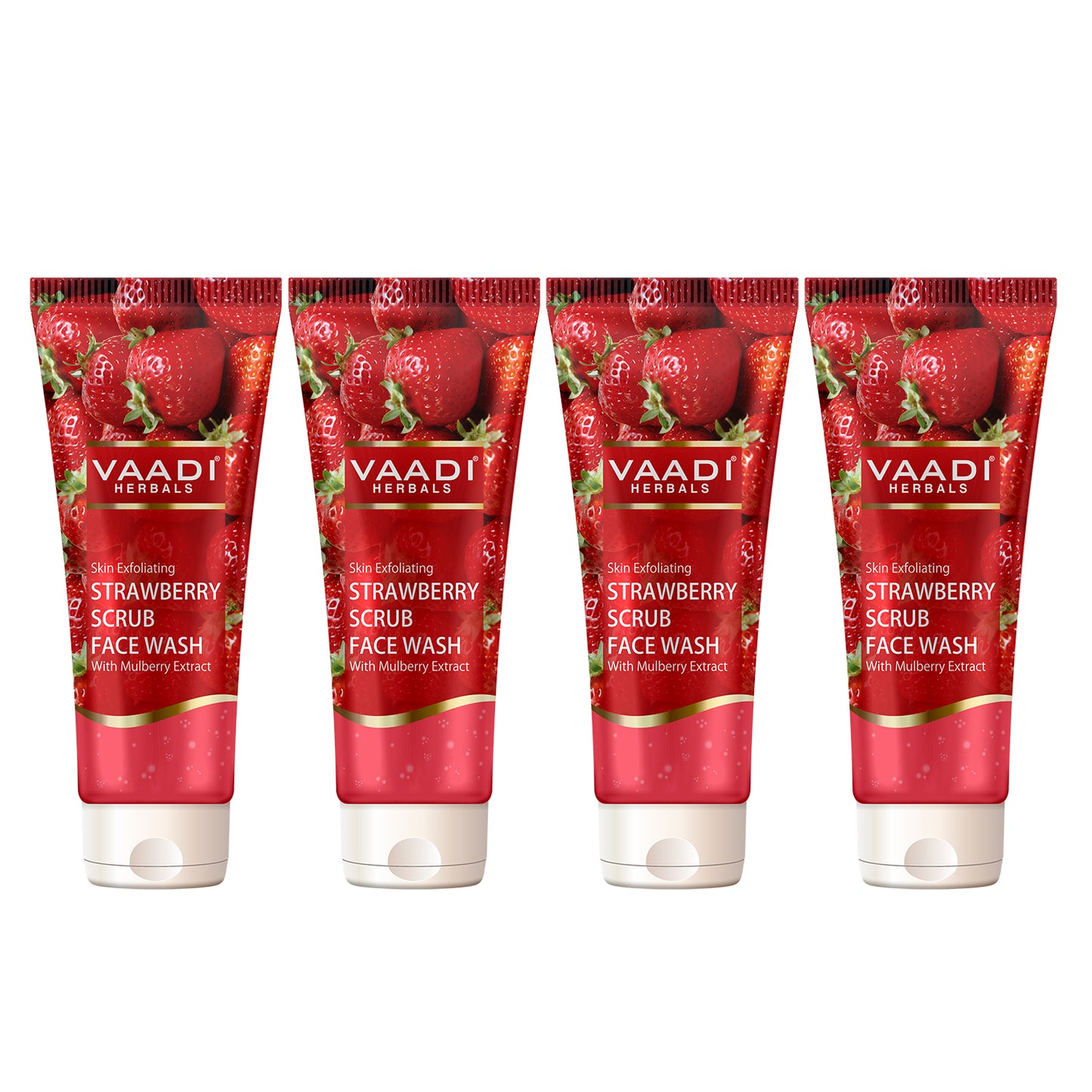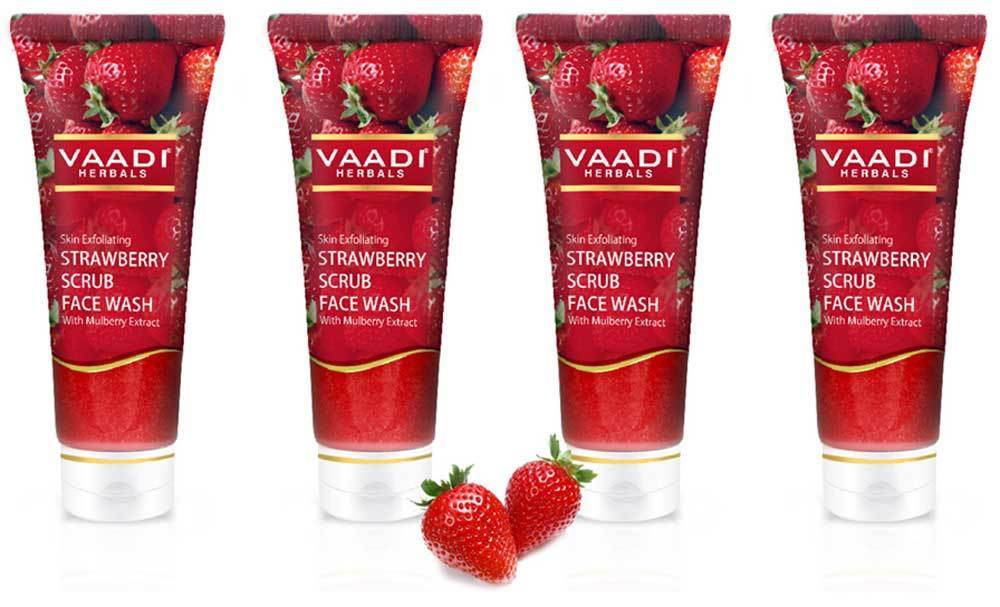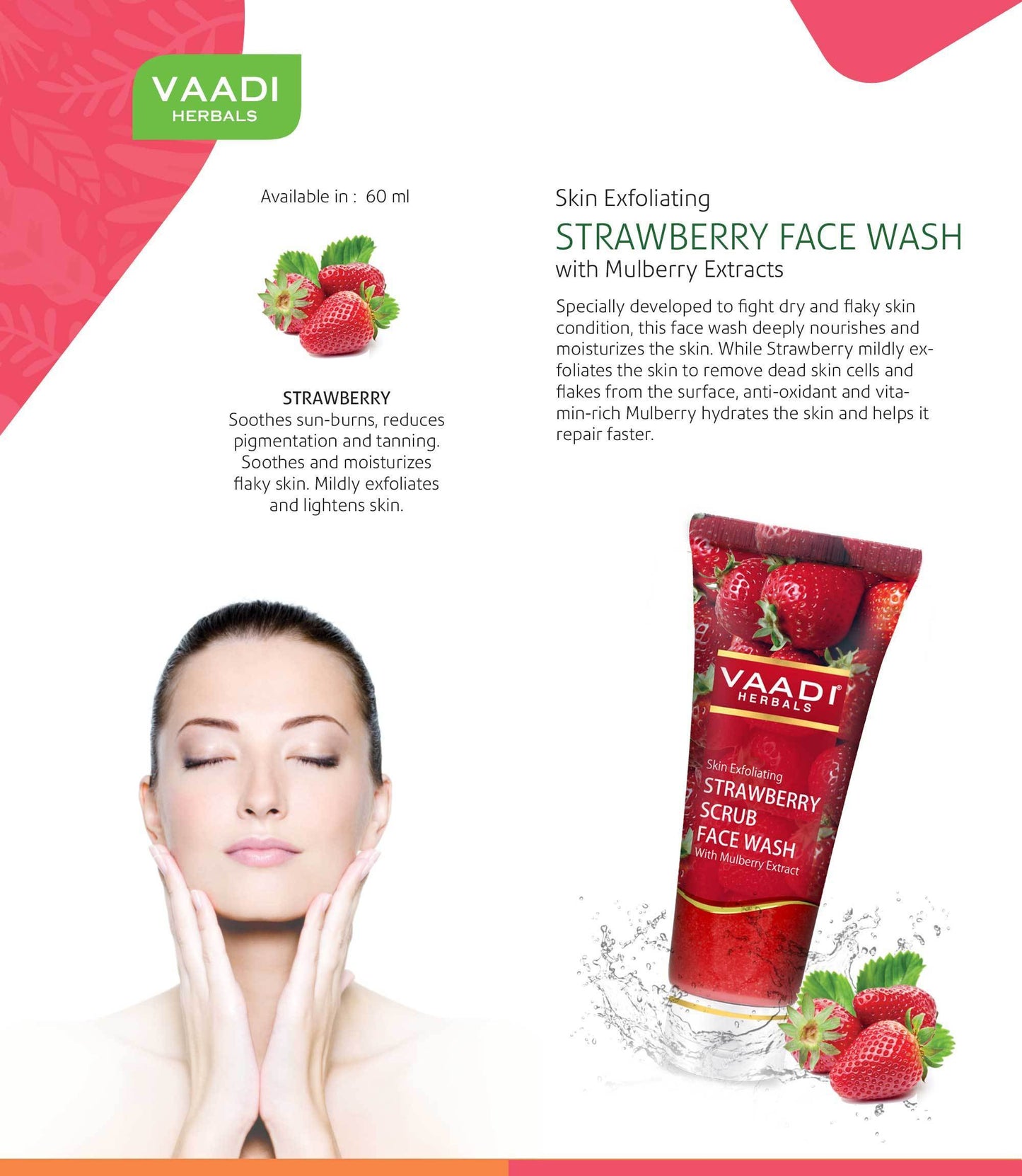 ORGANIC FARMS
Vaadi Organics is involved in very strategic procurement of a huge selection of organic ingredients for its entire range of personal care, spa, massage and aromatherapy applications. Organic ingredients are carefully selected for their quality and properties in skin, hair and complete beauty treatments. The range of ingredients sourced include therapeutic essential oils, berry seed oils, and some oils from the tropical rainforests of the Amazon.
Read More