Regular price
RM 189.50
Sale price
RM 170.55
Unit price
per
10% Off
Sold out
This exquisite gift box with a royal elephant on the cover has a true rich Indian tradition feel to it. It comprises of 9 products such as a shampoo and conditioner, an aromatic soap, a gentle face wash, a nourishing cleansing cream, a face scrub, a rich face pack and 2 delicious lip balms. This set is excellent for gifting purpose on any occasion and the products are suitable for all skin and hair types
BENEFITS

This gift box comprises of the following -

Heena shampoo

An ideal formulation for dry and frizzy hair, this shampoo effectively repairs the cuticles while cleansing the hair. Heena penetrates the hair shaft to add shine and strengthen to the hair, from within. Green Tea Extract restores dry and damaged hair, prevents split ends, and smoothes frizzy hair. 

Corn rose conditioner

Ultra nutrient-rich conditioning formulation, this product is bound to give you hair that is healthy & beautiful. The mineral content of Corn Rose & Hibiscus Extract moisturizes & nourishes each strand from root to tip, increase hair elasticity and repairs damage. The result: your hair is stronger, softer and shinier. 

Honey lemon face wash

A perfect cleanser that only rids the face of excess oil, but also ensures that it doesn't dry up. Lemon's acidic nature breaks down the excessive oil molecules and unclogs the pores, thus fighting acne break-outs and blackheads. Honey, a natural humectant, keeps the skin hydrated and also fights acne. 

Aloe Vera cleansing cream

Enriched with Aloe Vera extract & scientifically chosen herbal ingredients, this Cleansing Cream effectively removes Skin impurities and excess sebum. Aloe Vera hydrates the Skin and keeps it super soft and supple.

 

Saffron soap

Enriched with multi-mineral-rich content of Saffron & goat Milk, this soap lightens and evens your skin tone, while cleansing away pore-deep impurities. It gently fades away pigmentation marks and blemishes; and grants you a fairer & flawless complexion!

 

Lemongrass face scrub

The combined goodness of aromatherapy oils, of Lemongrass & Cedarwood, exfoliates your skin while gently pampering it. Dead cells on the surface are sloughed off, and excessive oiliness and impurities are removed. This scrub leaves your face clear, smooth & acne-free.

 

Diamond face pack

This unique complex of high powered Diamond powder combined with Honey wax gives natural lustre and youthful radiance to the skin. It further helps to reduce dark spots, wrinkles and fines lines on the skin. Leaving your skin well polished and luminous.

 

Lychee lip balm

An excellent combination of herbal ingredients, this lip balm tempts you with its flavor; while pampering your lips with its deep moisturizing. It grants health and beauty to your lips; while keeping the skin well-protected.

 

Mint lip balm

Enriched with rich natural ingredients, this lip balm will soften your lips, while keeping dryness and chapping at bay. It also provides essential nutrients to the lip skin, keeping it healthy and glowing.
HOW TO USE

Honey Lemon Face Wash : - Squeeze A Small Quantity On Wet Palms. Crush Mili Capsules And Work Out Lather. Apply On Wet Face With Circular Movements. Wash Off.

Heena Shampoo :- Apply Vaadi Shampoo On Wet Scalp And Hair. Massage It Gently Into The Scalp. Rinse And Repeat If Required.For Best Results Use Vaadi Herbals Red Flower Nourishing Conditioner.

Corn Rose Conditioner :-  After Shampooing, Take An Appropriate Amount Of Conditioner On Your Palm. Apply All Over The Hair Working Through Ends. Wait 3-5 Minutes. Rinse Thoroughly. For Best Result Use With Vaadi Herbals Shampoo.

Aloe Vera Cleansing Cream :- Apply A Generous Layer On The Face And Neck. Massage Gently In Circular Motions For 5-7 Minutes. Rinse Thoroughly Or Remove With Moist Cotton.

Lemongrass Face Scrub :- Moisten Face And Neck, Then Take Appropriate Amount Of The Scrub. Scrub Gently With Circular Movements With Upward Strokes For Atleast 5 Minutes. Wipe Off With Damp Cloth.

Diamond Face Pack :- Take The Pack On Your Finger Tips. Apply A Thick Layer Evenly All Over The Face And Neck Avoiding The Eye Area. Keep It On For About 30 Minutes Or Until Dry. Rinse Off With Water. Pat Dry.

Mint Lip Balm :- Clean Lip Gently And Use Your Fingers To Apply The Lip Balm To Your Lips.

Lychee Lip Balm :- Clean Lip Gently And Use Your Fingers To Apply The Lip Balm To Your Lips.
COMPLETE INGREDIENTS

Active Ingredients : Aloe Vera Extract, Cedar Wood Oil, Grape Seed, Green Tea Extract, Heena Extract, Hibiscus, Red Corn Rose, Honey, Lemon Extract, Almond Oil, Jojoba Oil
Share
View full details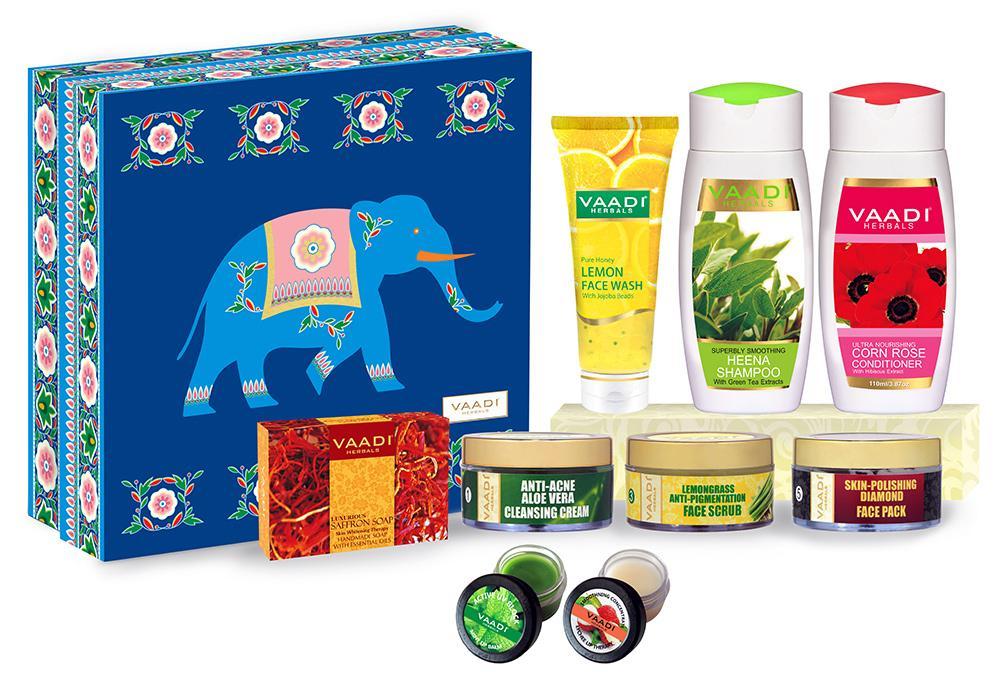 ORGANIC FARMS
Vaadi Organics is involved in very strategic procurement of a huge selection of organic ingredients for its entire range of personal care, spa, massage and aromatherapy applications. Organic ingredients are carefully selected for their quality and properties in skin, hair and complete beauty treatments. The range of ingredients sourced include therapeutic essential oils, berry seed oils, and some oils from the tropical rainforests of the Amazon.
Read More