Regular price
RM 39.30
Sale price
RM 31.44
Unit price
per
20% Off
Sold out
Jasmine essential oil is recommended for dry, damaged and frizzy hair. It is frequently used in massage therapy as it has a healing and relaxing effect, and its fragrance uplifts the mood. Its regular use prevents skin infections and reduces blemishes to keep the skin spotless. Each bottle of 10 ml contains 280 drops. With the usage of 4 drops per application, this bottle will last for 70 applications
BENEFITS

Vaadi Herbals has invested in research and innovations to produce a range of time-tested herb based Essential Oil range to enhance beauty and soothe & calm mind, body and senses – just the way nature intends us to be. Our commitment to quality extends throughout every phase of product development, manufacturing and packaging. Herbs are checked for their essential qualities and tested at our laboratories where each ingredient is individually tested before it can be used to make a final product.

About Our Essential Oil Range

Extracted through careful steam distillation and cold pressing, only the purest essential oils are used in our range of oils.

Jasmine oil, a type of essential oil derived from the jasmine flower, is a popular natural remedy for improving mood, overcoming stress and balancing hormones. Jasmine oil has been used for hundreds of years in parts of Asia as a natural remedy for depression, anxiety, emotional stress, low libido and insomnia. Using jasmine oil either as an aromatherapy treatment or topically on the skin, has also been known as a way to boost energy levels.
HOW TO USE

Add 2-3 drops to the cream, hair oil or moisturizer and use for body massage, hair or face. You can also add a few drops to an aromatherapy diffuser or directly to the tub during a bath. Each bottle of 10 ml contains 280 drops. With the usage of 4 drops per application, this bottle will last for 70 applications.
COMPLETE INGREDIENTS

Benefits - Soothes senses and relaxes muscles,Improves health of skin and hair

Ingredients : Pure Jasmine oil (Jasminum Officinale Flower Oil)

Suggested Carrier Oil
(Carrier oils are used to dilute essential oils and "carry" them to your skin) - 

Coconut, jojoba, magnesium or avocado Oil.
Share
View full details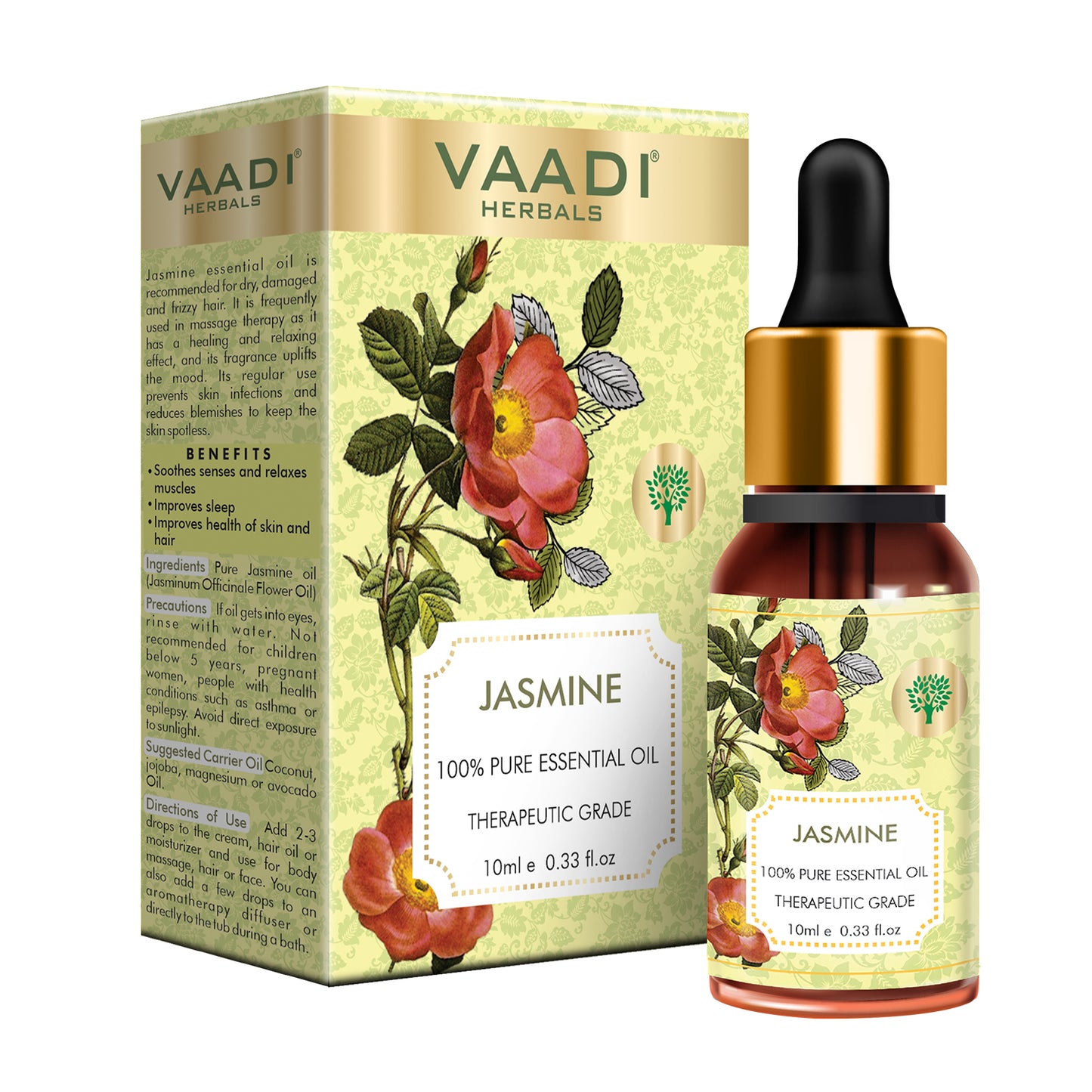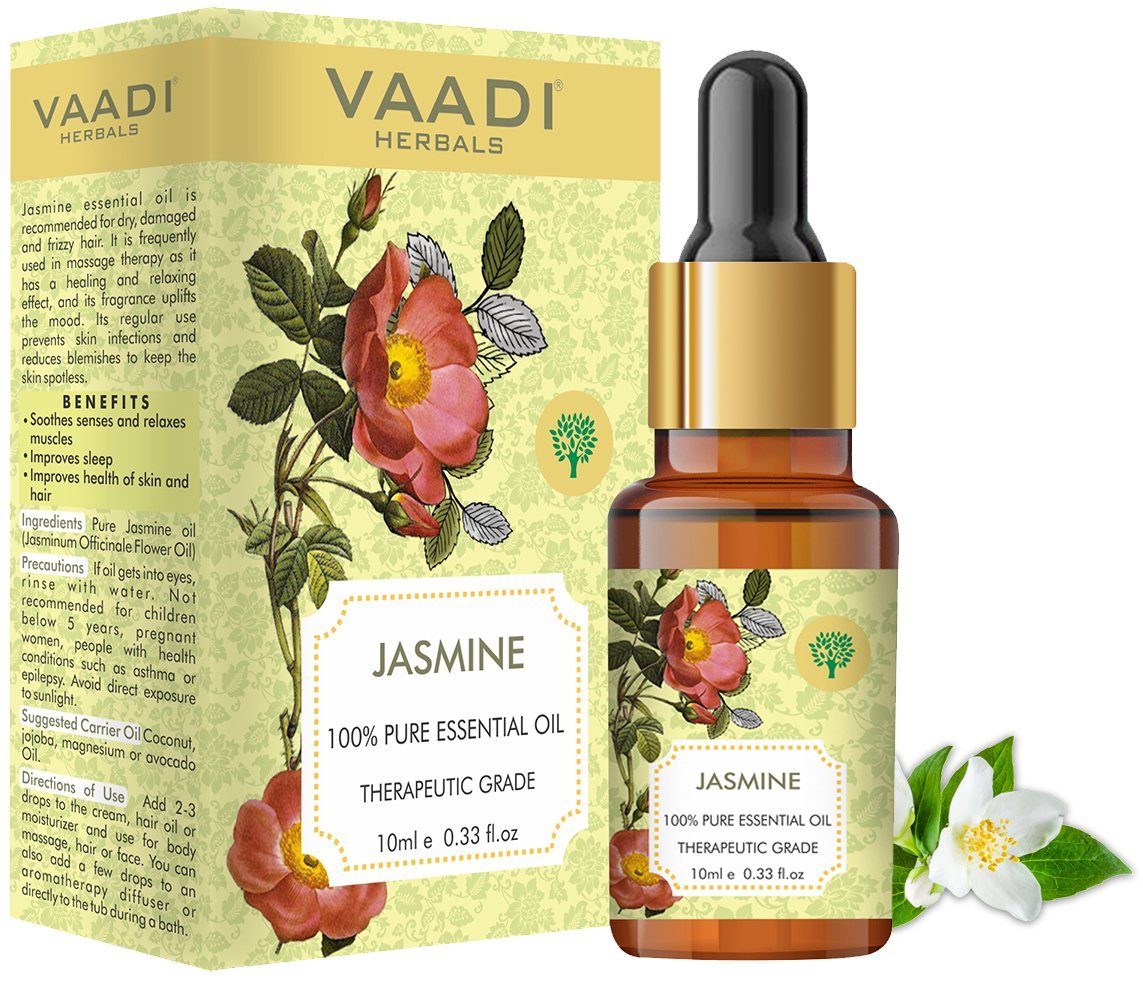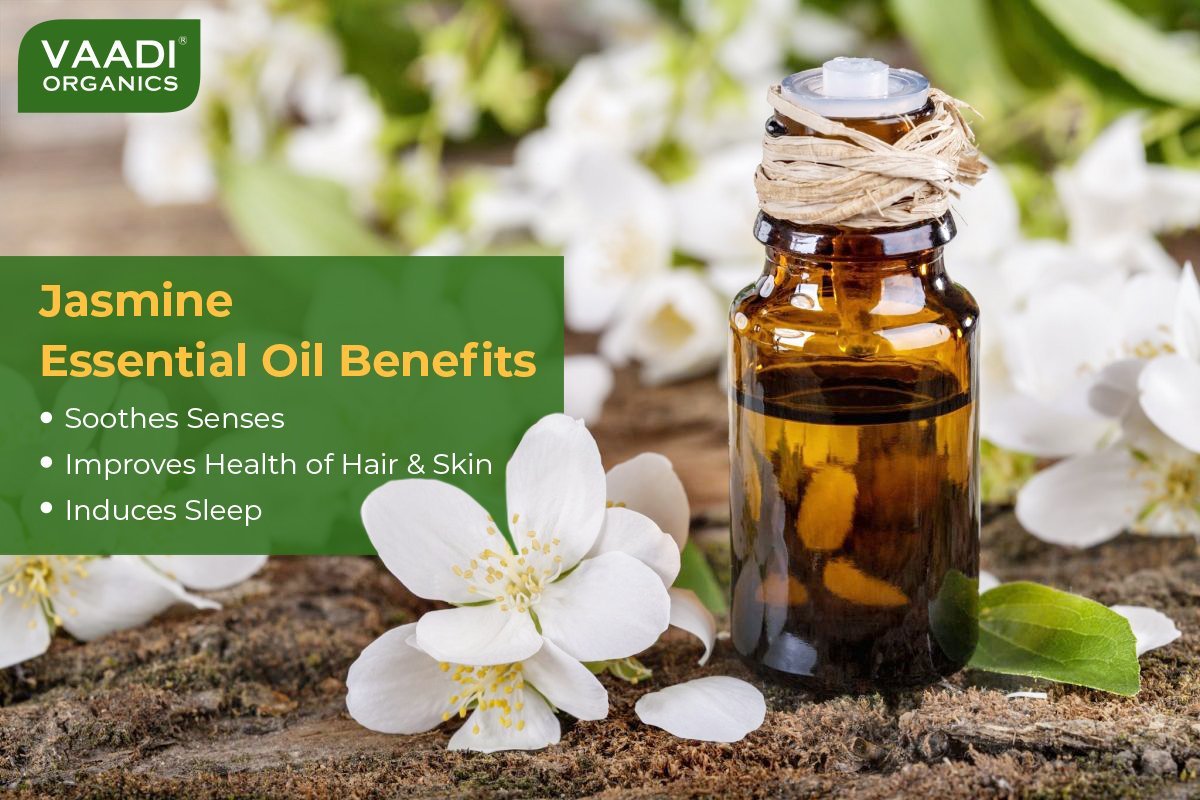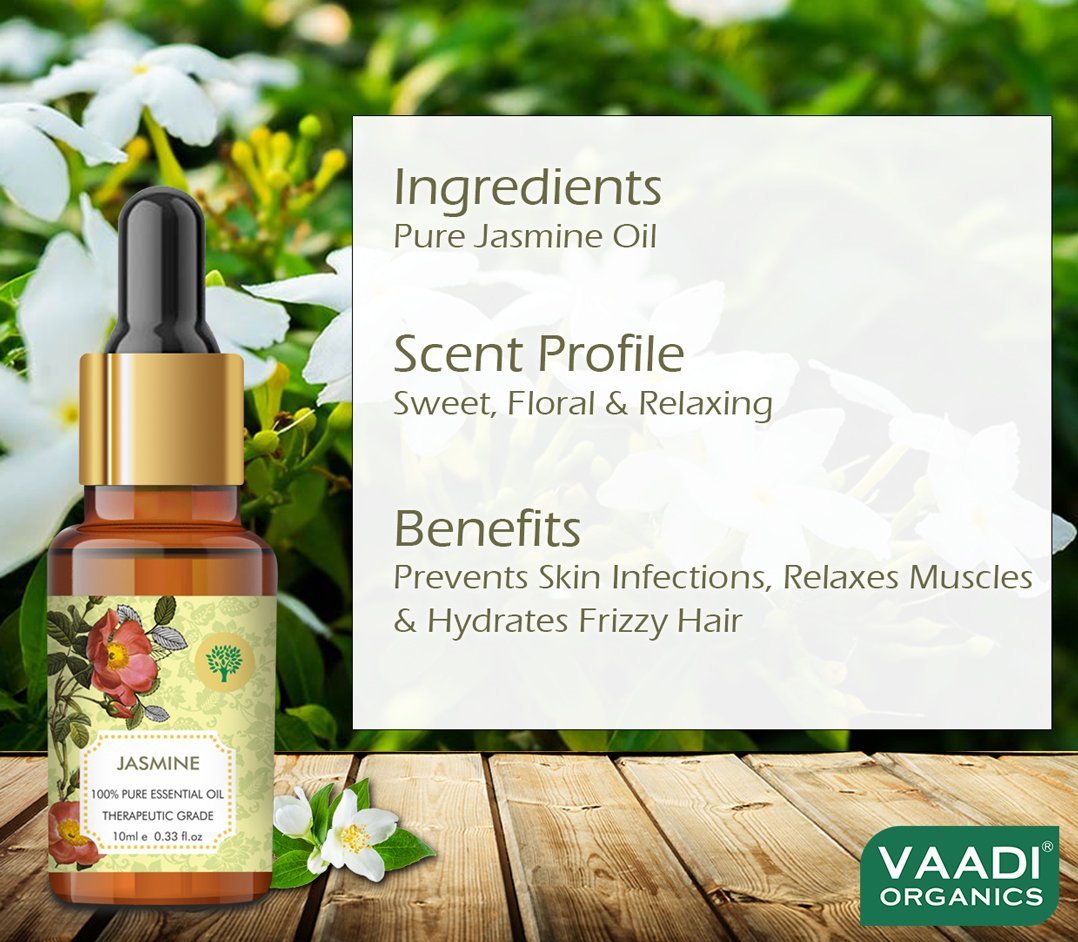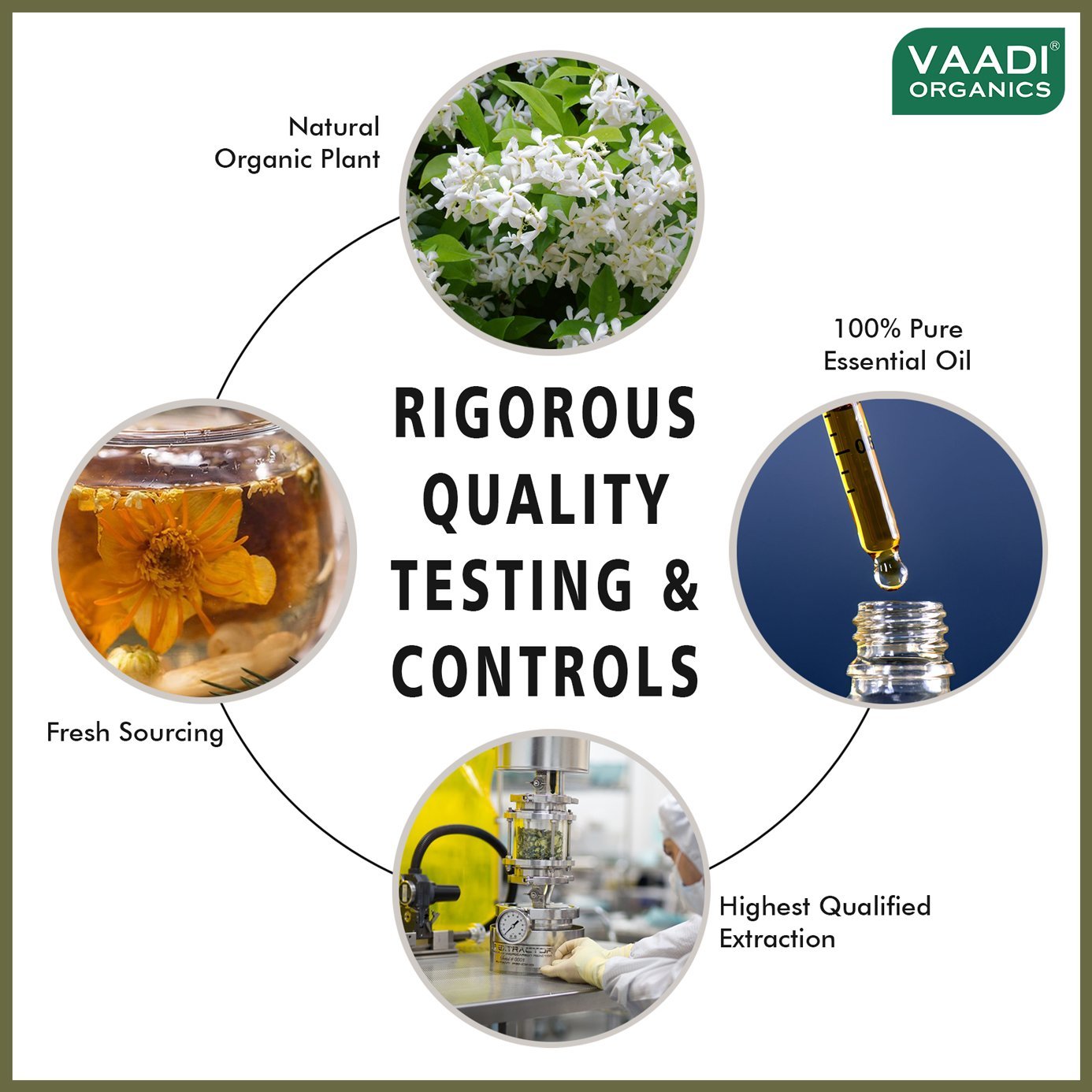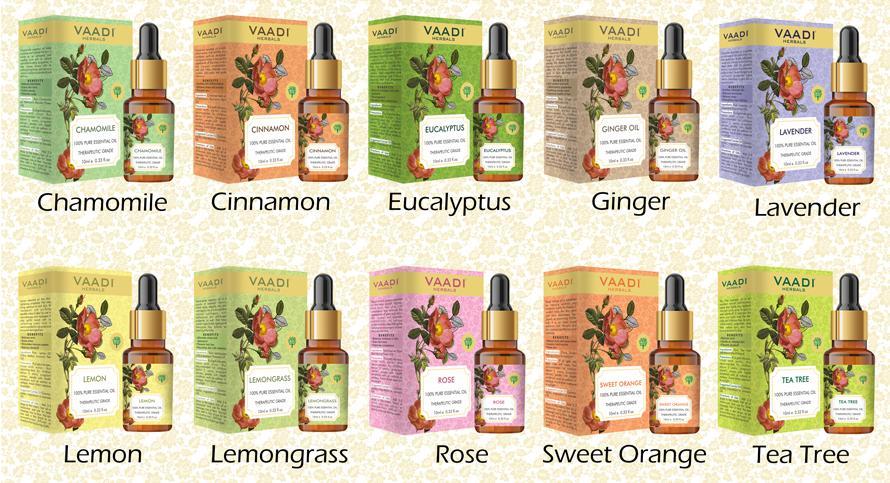 ORGANIC FARMS
Vaadi Organics is involved in very strategic procurement of a huge selection of organic ingredients for its entire range of personal care, spa, massage and aromatherapy applications. Organic ingredients are carefully selected for their quality and properties in skin, hair and complete beauty treatments. The range of ingredients sourced include therapeutic essential oils, berry seed oils, and some oils from the tropical rainforests of the Amazon.
Read More