Regular price
RM 43.40
Sale price
RM 39.06
Unit price
per
10% Off
Sold out
This super luxurious formulation uses 24K gold leaves infused with Ayurvedic oils using traditional methods. It penetrates softly but deeply into the skin to cleanse away all dirt, impurities & makeup. The 3 action formula leaves your skin satin soft & radiant
BENEFITS

Gold, the miraculous metal has been enhancing the beauty in the most magnificent ways since ages. But only a very few know the added benefits of gold which when applied on the skin as a beauty product, combined with other natural ingredients, yields a flawless, sparkling complexion. The 24-carat Gold leaves polish the skin in an unimaginable way. Be it blackheads, pimples, freckles or blemishes, the impure layer of the skin is washed off after using the scrub containing 24 carat gold leaves. It works on the skin efficiently, deeply cleanses the skin pores, gently scrubs away dead skin. In long term, the regular usage of the scrub will give skin a smooth, shiny texture. The Gold leaves not just improve the texture but also help in rejuvenation and renewal of the skin. The gold leaves improves and regulates proper blood circulation, and thereby preventing premature aging.

Amla Oil ensures proper hair growth & uniform pigmentation. This oil prevents pre-mature aging of hair thus preventing greying. Amla Oil prevents hair fall by strengthening the hair follicles. It prevents split-ends and provides natural shine and luster by rejuvenating dull and damaged hair. It has a unique refreshing quality. It soothes and cools the mind ensuring proper sound sleep. Amla oil, along with various other formulations like Brahmi, Reetha & Shikakai provides a natural combination for curing body pain, headache and is a perfect combination for shiny healthy hair.

Honey ensures that the lips retain the natural moisture and do not look dry or chapped. Honey traps the moisture and keeps the Lips hydrated for a long time. Also, honey safeguards the lips from external factors. When it comes to almond oil, being thin, it penetrates easily and heals chapped lips giving them a smooth and lustrous appeal. And when combined with honey, it benefits the lips in the most subtle and effective way. Almond oil is an effective cure to dryness and sun burns. It leaves lips petal-soft.
HOW TO USE

Apply a generous layer on the Face and Neck. Massage gently in circular motions for 5-7 minutes. Rinse thoroughly or remove with moist cotton.
COMPLETE INGREDIENTS

Ingredients : 24K Gold leaves, Pure Almond Oil, Coconut (Cocos Nucifera) Oil Derivative, Vitamin E, Wheatgerm Oil, Organic Honey (Mel extract), DM Water (Aqua)
Share
View full details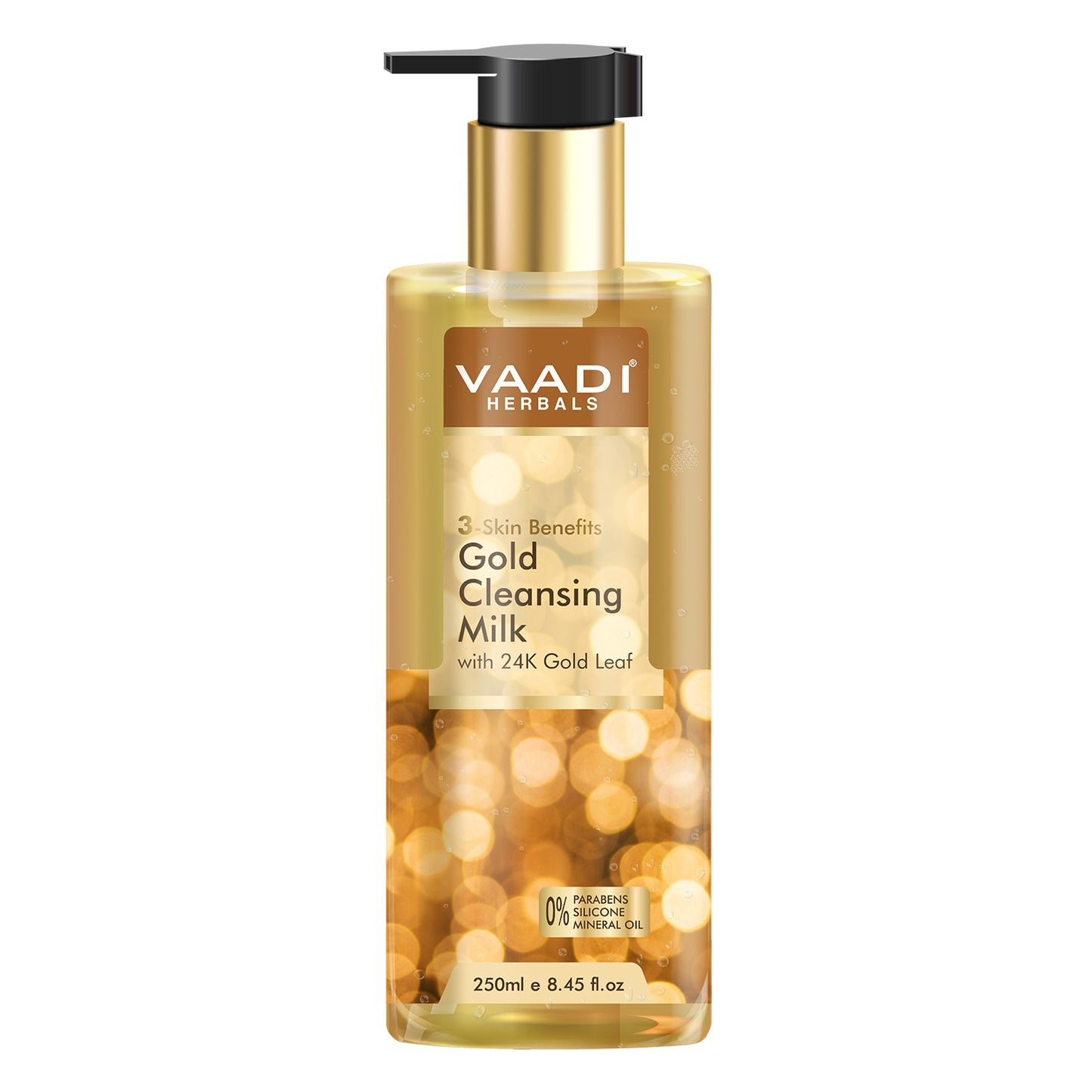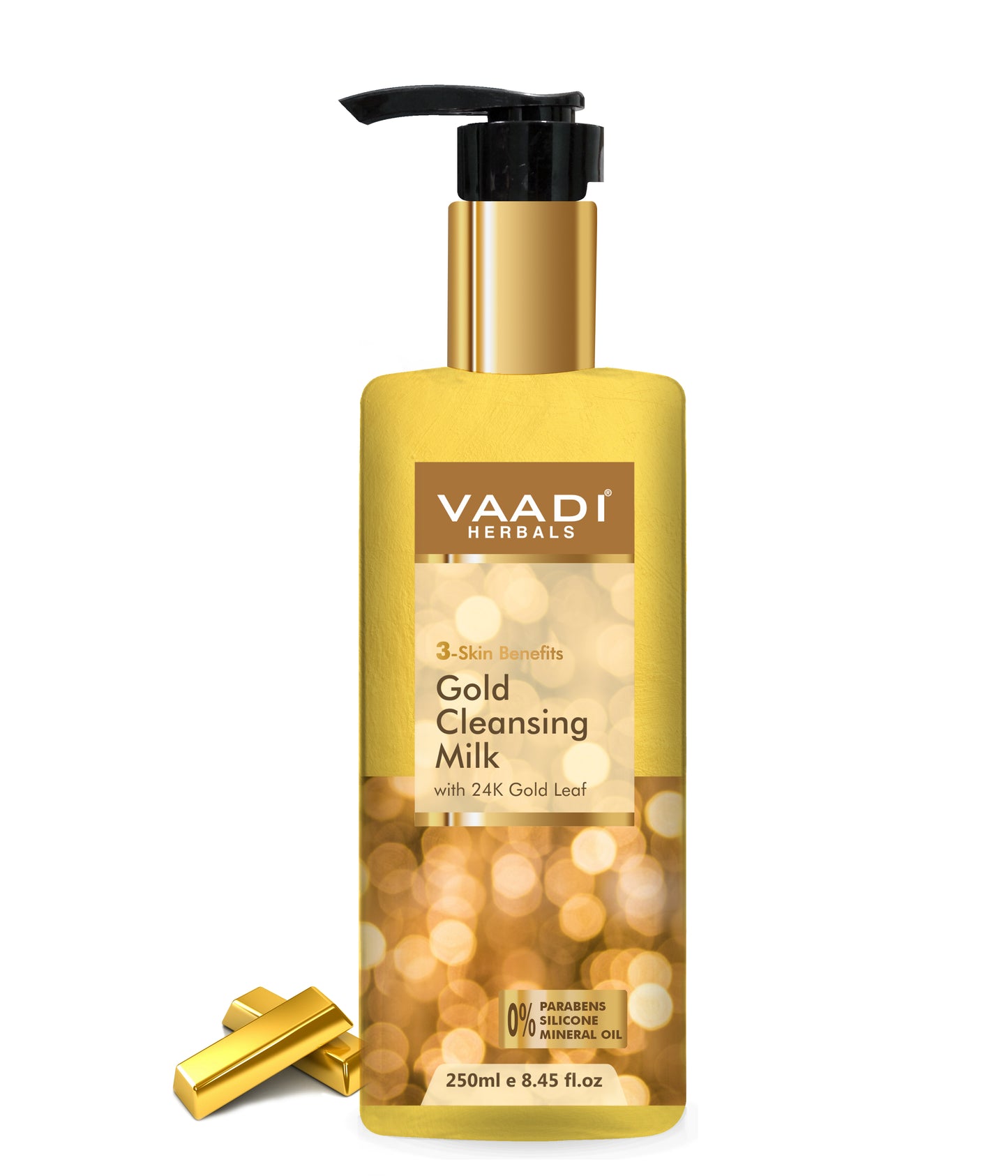 ORGANIC FARMS
Vaadi Organics is involved in very strategic procurement of a huge selection of organic ingredients for its entire range of personal care, spa, massage and aromatherapy applications. Organic ingredients are carefully selected for their quality and properties in skin, hair and complete beauty treatments. The range of ingredients sourced include therapeutic essential oils, berry seed oils, and some oils from the tropical rainforests of the Amazon.
Read More