Regular price
RM 42.00
Sale price
RM 33.60
Unit price
per
20% Off
Sold out
Spread the magic and beauty of aroma with this refreshing gift pack of natural and handmade soaps, made with herbs, essential oils and fruit extracts. This collection of lusciously aromatic soaps from Vaadi Herbals is just perfect for a truly fresh, new start everyday
BENEFITS

What comprises of proper skin nourishment?

Glowing or radiant skin is a sign of healthy skin. The health of the skin is further dependent on proper nourishment; which includes proper cleansing, along with hydration and nutrient supply. Milder soaps cannot properly cleanse the skin. And harsher ones do rid the skin of impurities; but also steal away its moisture. But, neither cleansing nor moisturizing can be ignored. This is because proper cleansing betters the nutrient supply to the cells, while keeping skin free of infections and acne. Adequate nutrient supply helps skin repair faster, and stay healthier. As for hydration, it strengthens the cells, maintains skins elasticity, delays wrinkling. And a well hydrated skin is less prone to damage from external factors. Natural Soap v/s Chemical Soaps When we go to market to choose soap suitable for the skin, we may have an option of over thousand of variety of soaps. Fragrances play a very important role. No one prefers a soap with an unpleasant odor. But the chemical soaps available in the market at high prices falsely claim to be benefiting the skin. The chemical ingredients which are added to improve the skin prove to be a curse for the skin in long run.

The pack contains:

Enchanting Rose Soap

A powerful anti-pigmentation formula, this soap clears dark spots and patches off your skin, as it cleanses it. English Rose's astringency and rich Vitamin C content help fade pigmentation marks; while Mulberry's arbutin inhibits melanin synthesis; thus preventing pigmentation.

 

Lavish Almond Soap

Deeply Moisturizes and Softens Skin. Enriched with Almond Oil that gives softness to your skin by removing dark spots & blemishes and improves complexion. Also contains a blend of Honey & Aloe Vera that deeply moisturizes and nourishes your skin making it glow.

 

Tempting Chocolate & Mint Soap

A double-action soap, it cleanses and deeply moisturizes your face simultaneously. The fatty acids of cocoa provide the necessary moisturizing; while mint relieves skin congestion and facilitates moisture penetration into the deeper layers of the skin; keeping your skin soft and supple. 

Purifying Neem-Patti Soap

This unique premium herbal soap is prepared with pure Neem Leaves. This formulation gently, yet effectively detoxifies even the deeper layers of your skin. Its anti-bacterial nature kills all the germs and bacteria making your skin young and healthy!

 

Luxurious Saffron Soap

Enriched with multi-mineral-rich content of Saffron & goat Milk, this soap lightens and evens your skin tone, while cleansing away pore-deep impurities. It gently fades away pigmentation marks and blemishes; and grants you a fairer & flawless complexion!

 

Heavenly Lavender Soap

A refreshing and skin re-vitalizing complex of Lavender & Rosemary, this soap breathes new life into your skin. Together they boost the blood circulation; relieving congestion & puffiness. They also moisturize the skin and promote cellular regeneration."
HOW TO USE

Take Soap And Lather In The Hands. Apply The Lather To The Entire Body, Gently Massage And Enjoy The Pure Delight Of Our Herbal
COMPLETE INGREDIENTS

Active Ingredients : Almond Oil, Peach, Wheatgerm Oil, Sandal Extract, Turmeric Extract, Extract Of English Rose, Mulberry, Lavender Extract, Rosemary Extract, Basil Extract, Lemon Extract, Green Apple Extract, Lemon Extract, Orange Extract, Peach, Chocolate, Mint Extract, Neem Extract, Tulsi, Green Apple Extract, Kiwi
Share
View full details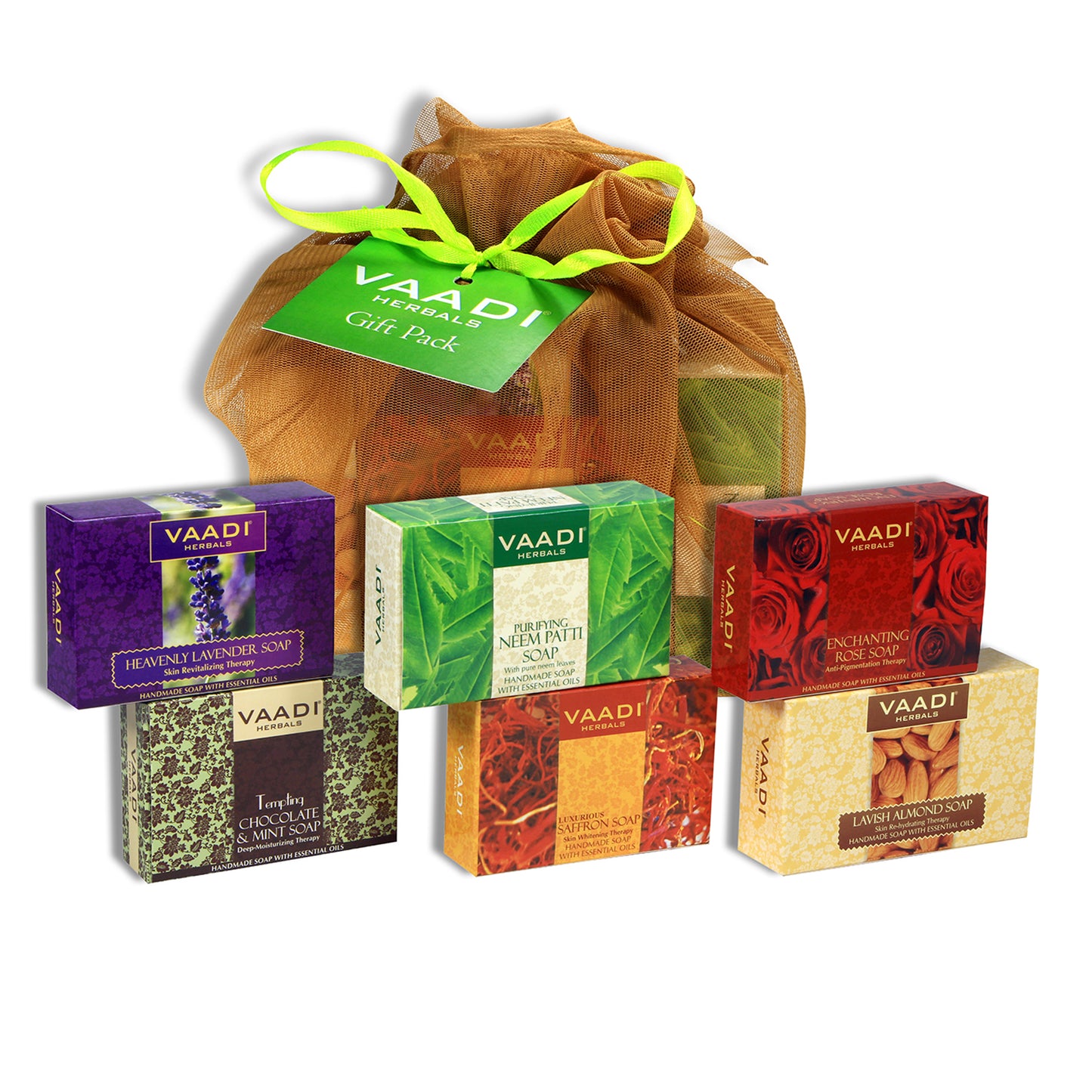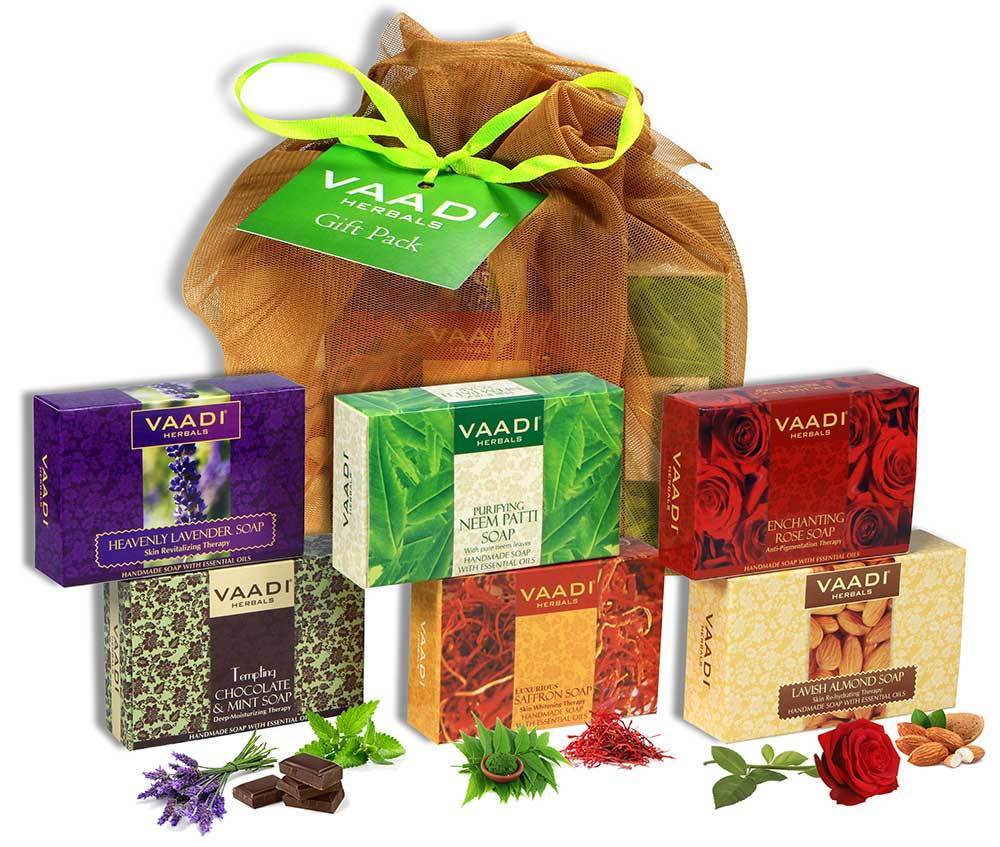 ORGANIC FARMS
Vaadi Organics is involved in very strategic procurement of a huge selection of organic ingredients for its entire range of personal care, spa, massage and aromatherapy applications. Organic ingredients are carefully selected for their quality and properties in skin, hair and complete beauty treatments. The range of ingredients sourced include therapeutic essential oils, berry seed oils, and some oils from the tropical rainforests of the Amazon.
Read More