Regular price
RM 49.20
Sale price
RM 44.28
Unit price
per
10% Off
Sold out
This gold leaves and grape seed extract gel is specially formulated to improve blood circulation and restore softness of the delicate facial skin. Aloe Vera further purifies and makes the skin refreshed and radiant
BENEFITS

What are the benefits of massaging and how does it contribute to making skin healthier ?

A good massage is imperative for a healthy skin; and if the skin is healthy it is bound to be radiant as well. The foremost advantage of massaging is that it dilates the blood vessels; thus improving the blood circulation. This further on, allows cells to receive an increased supply of nutrients. And an improved nutrient supply facilitates cellular regeneration and faster healing of tissues. Skin detoxification is another one of its advantages. Massaging stimulates flushing of toxins from the tissues; while allowing moisture, oxygen and other nutrients to penetrate deeper, strengthening the skin from within.

What are the benefits of Gold when used for massage ?

Gold is known for its unique action of detoxifying the skin. Not just that, it accelerates the healing of a number of skin issues, such as rashes, eczema, fungal infections as well as skin burns. This is owed to its dual ability of reducing inflammation; as well increasing the rate of cell re-growth. This element even stimulates the production of collagen in the skin, while protecting elastin from being broken down. It also prevents the discoloration of the skin, by slowing down the production of melanin. This triple action, combined with the capability of cell rejuvenation, renders gold an effective anti-aging element.

What is Aloe Vera Extract and how does it make skin healthier ?

Aloe vera extract is a well known anti bacterial as well as anti inflammatory agent and so, often used to treat and prevent skin infections and acne, and calm dry or irritated skin. A great, non-oily moisturizer for all skin types, it also improves the skin's ability to keep hydrated and supple. It works great to rejuvenate skin by clearing its surface of dead skin cells, lightening acne or pigmentation marks and making the skin more absorbent for nutrients. Additionally, it is also a popular anti oxidant because of its unique ability to neutralize free radicals and stimulate elastin and collagen formation, hence working against premature aging.

What is Grape Seed Extract and how does it fight skin aging ?

An anti aging agent well known because of its effectiveness is Grape Seed Extract, a derivative of whole grapes' seeds. The abundant presence of flavonoids, polyphenols and Vitamin E make it a powerful anti oxidant. It is particularly rich in a phenol called Procyanidin, known to be as many as 20 times a more powerful anti oxidant than Vitamin E. It works strongly against premature aging by neutralizing the free radicals that already exist and forbidding the formation of new ones. Procyanidins are also known for their ability to improve the elasticity of skin and cell health, by bonding with skin's collagen. It can also restore sun damaged skin and heal wounds.
HOW TO USE

Apply A Scoop Of The Gel, Gently Massage All Over The Face And Neck In Circular Upward Direction Until It Gets Absorbed In The Skin Completely.
COMPLETE INGREDIENTS

Ingredients :Steam Distilled Aloe Vera Gel (Aloe Barbadensis), Grape Seed Extract (Vitis Vinifera Extract), Pure Rosemary Extract (Rosmarinus Officinalis Oil), 24 Carat Gold Leaves Powder, Organic Honey (Mel Extract), DM Water (Aqua)

 
Share
View full details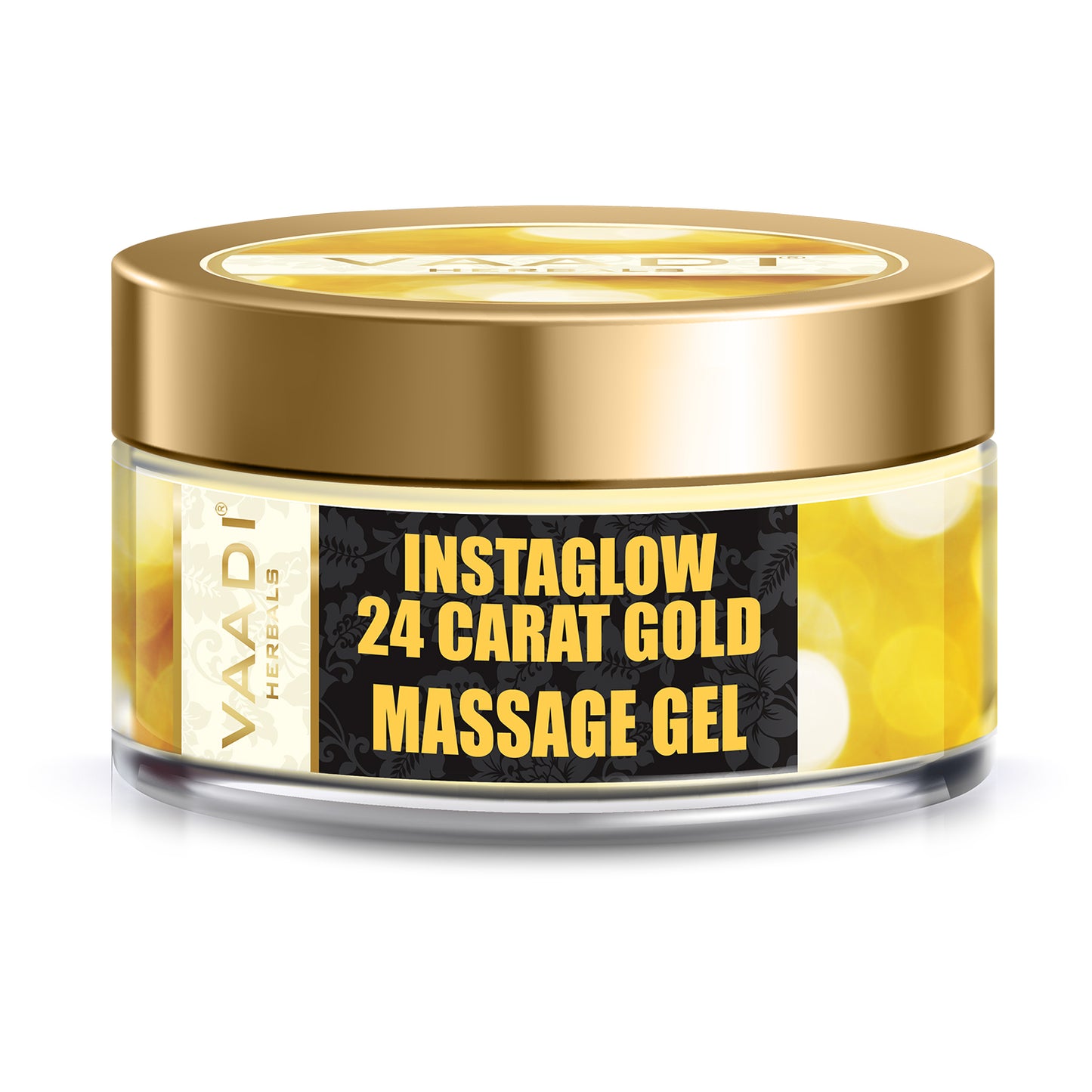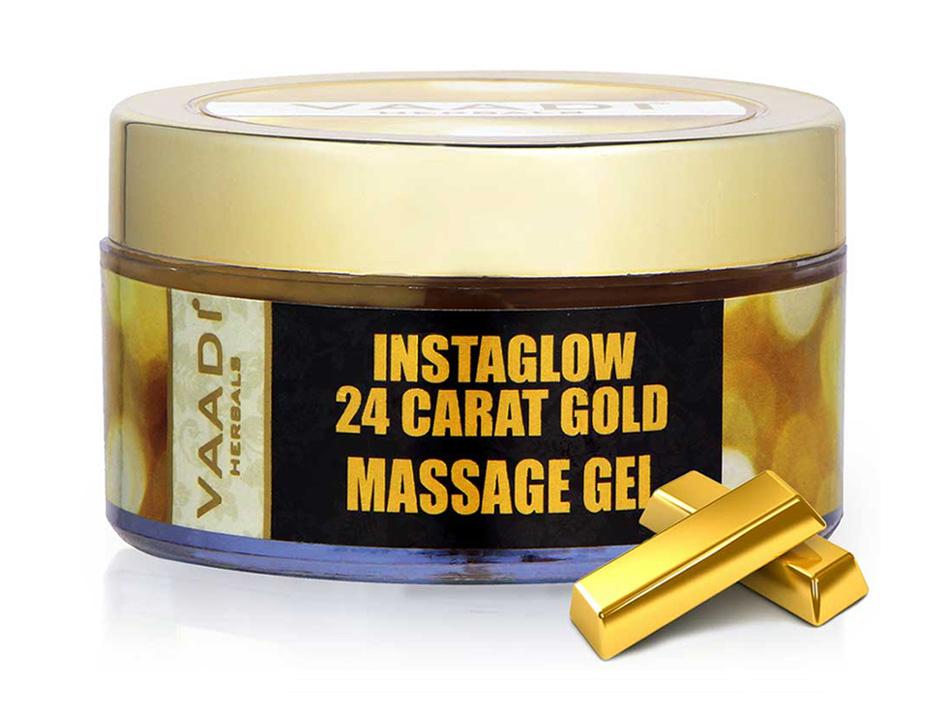 ORGANIC FARMS
Vaadi Organics is involved in very strategic procurement of a huge selection of organic ingredients for its entire range of personal care, spa, massage and aromatherapy applications. Organic ingredients are carefully selected for their quality and properties in skin, hair and complete beauty treatments. The range of ingredients sourced include therapeutic essential oils, berry seed oils, and some oils from the tropical rainforests of the Amazon.
Read More