Regular price
RM 55.20
Sale price
RM 49.68
Unit price
per
10% Off
Sold out
This gentle and superbly hydrating Aloe Vera & Cucumber Mist cools sensitive skin, reducing redness and heat patches. It soothes the skin damaged from UV rays and wind while providing intensive moisture to the skin, making it feel healthier and vibrant.
This natural and deeply cleansing Rose Mist or Water revives and hydrates skin without any stickiness. It calms tired skin and reduces redness, itchiness and inflammation caused due to over exposure to sun and pollution. It also repairs skin damage due to daily application of makeup and removes all dirt and impurities
BENEFITS

Rose water is an effective cleanser that leaves the skin feeling fresh, healthy and clean. The gentle fragrance leaves behind a trail of freshness and calms senses. This hydrating water helps maintain the natural moisture balance and the skin feels beautifully soft and conditioned.

Aloe Vera & Cucumber Mist is an effective toner formulated from organic aloe vera leaves that tones, moisturizes and hydrates skin. It is mild and ideal for dry, mature or very sensitive skin. This combination soothes redness and irritation, and removes pore clogging dirt from the skin's surface.

 

Oil of Pink Rose, carefully extracted from Pink Rose petals, works great on the skin irrespective of the skin type. Even sun burnt skin finds relief with the inclusion of Rose oil. Rose extract is an amazing astringent that soothes the skin from within and provides a gentle, cooling effect. Regular scrubbing and cleansing robs the skin off its moisture. Rose Extracts helps in re-balancing the skin's natural moisture and imparts a glow from within.

The fresh aloe vera leaf extract used in this mist refreshes and clarifies sensitive skin by removing oil and dirt.

 
HOW TO USE

Spray on face and body and evenly spread it all over or spray twice on cotton swab and swipe it across your face.
COMPLETE INGREDIENTS

Ingredients : Steam Distilled Aloe Vera Extract (Aloe Barbadensis Leaf), Pure Cucumber Extract (Cucumis Sativus), Steam distilled extract of Pure English Rose Petals (Rose Canina), Aqua.
Share
View full details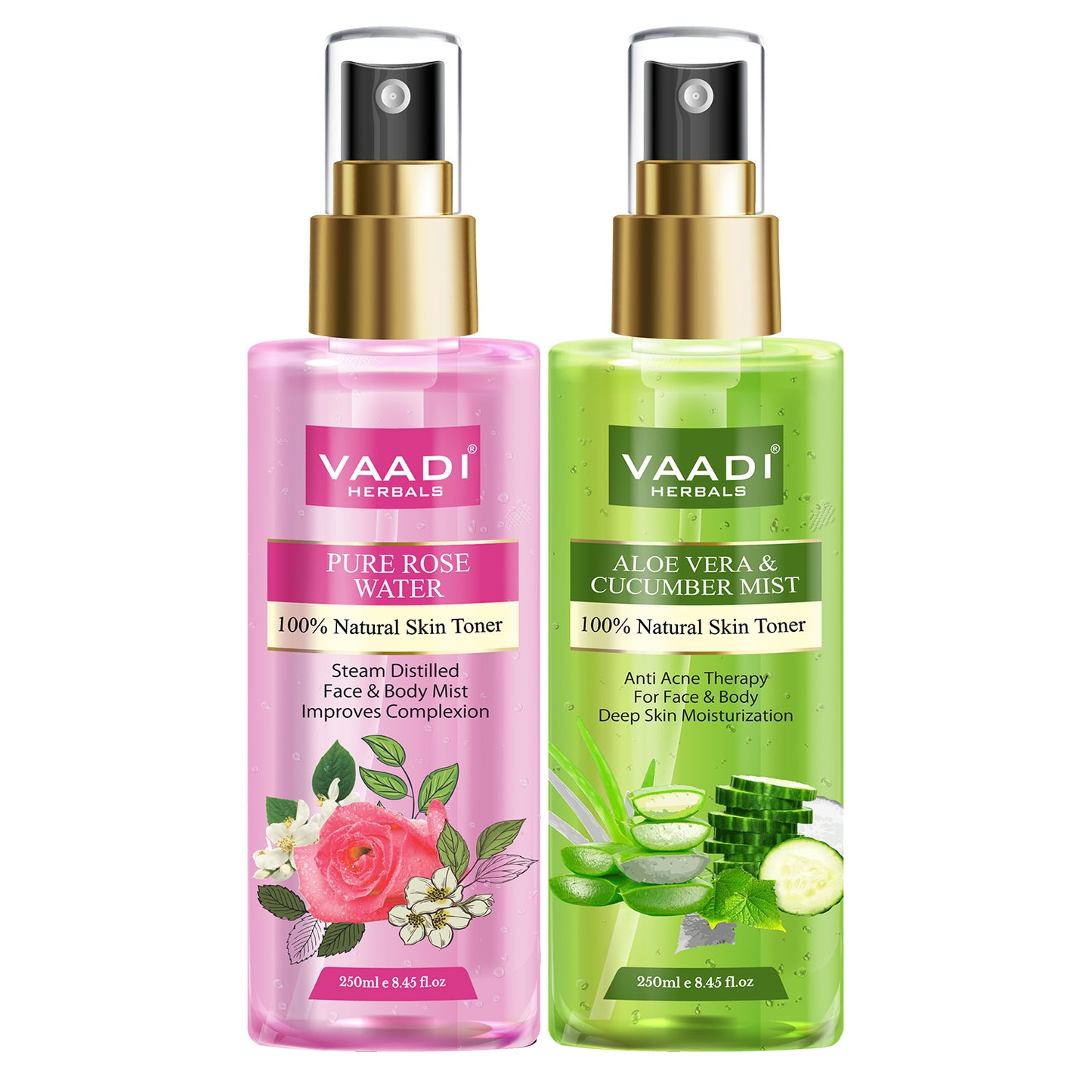 ORGANIC FARMS
Vaadi Organics is involved in very strategic procurement of a huge selection of organic ingredients for its entire range of personal care, spa, massage and aromatherapy applications. Organic ingredients are carefully selected for their quality and properties in skin, hair and complete beauty treatments. The range of ingredients sourced include therapeutic essential oils, berry seed oils, and some oils from the tropical rainforests of the Amazon.
Read More