Regular price
RM 138.00
Sale price
RM 124.20
Unit price
per
10% Off
Sold out
This Organic Body Care Set has
1 Sandalwood Face Pack  (120 gms/ 4.3 oz)
1 Lavender Body Oil  (110ml /4 fl oz)
1 Fruit Splash Soap (75 gms/2.7 oz)
1 Fairness Moisturiser (110 ml/ 4 fl oz)
1 Mint Lip Balm (10 gms/ 0.4 oz)
1 Strawberry Shower Gel (300 ml/ 10.2 fl oz)
1 Foot Scrub (110 gms / 4 oz)
1 Papaya Face & Body Cream (150 gms/ 5.3 oz).
It has skin friendly products which are suitable for all skin types
BENEFITS

This skin care set comprises of the following


Sandalwood Face Pack  (120 gms/ 4.3 oz)

Scientifically made skin whitening treatment that also reduces skin blemishes and removes skin pigmentation marks.


 Lavender Body Oil  (110ml)

This amazing body oil relaxes tensed muscles; while deep moisturising the skin, and making it smooth, soft & supple. It further prevents premature ageing & wrinkling of the skin. Its constituent aromatherapy oils effectively reduce stress & depression; enhance deep sleep & promote a healthy nervous system.

Fruit Splash Soap (75 gms)

The perfect combination of multivitamin-rich fruit extracts; this soap is bound to nourish your skin from within. While cleansing, its molecules penetrate deep into the skin to feed the skin cells with essential nutrients; granting your skin health inside & beauty outside!

Fairness Moisturiser (110 ml)

This dual-action formulation effectively lightens your skin tone while deep-moisturizing it. The presence of Vitamin-C-rich Mandarins externally lightens the complexion. On the other hand, the Silk Extract works from the inside, by controlling the production of skin-darkening pigment, melanin. Together they grant you a softer, smoother & fairer complexion.


Mint Lip balm (10 gms/ 0.4 oz)

Enriched with rich natural ingredients, this lip balm will soften your lips, while keeping dryness and chapping at bay. It also provides essential nutrients to the lip skin, keeping it healthy and glowing.

Strawberry Shower Gel (300 ml)

This shower gel is packed with the goodness of Vitamin C rich strawberries. They enhance collagen production which keeps wrinkles at bay and gives a great looking, glowing skin.


Foot Scrub (110 gms / 4 oz)


This uniquely designed foot scrub scientifically uses precious herbs & scrubs, to effectively exfoliate dead foot tissues & rejuvenates the rough & damaged foot skin. Makes your feet super soft & supple.


Papaya Face & Body Cream (150 gms/ 5.3 oz)


Multi-vitamin rich, this cream breathes new life into your skin. Its rich anti-oxidant content fights aging; keeping skin supple and elastic. It fights wrinkling and promotes cell-growth. Its regular use is bound to keep your skin forever youthful


HOW TO USE

Papaya Cream - Apply Vaadi Papaya Face And Body Cream All Over The Face And Body. Gently Massage In Outward Circular Motion Till Totally Absorbed.

Lavender Body Oil - Apply All Over Body With Firm Circular Strokes.

Fruit Splash Soap - Take Soap And Lather In The Hands. Apply The Lather To The Entire Body, Gently Massage And Enjoy The Pure Delight Of Our Herbal.


Fairness Moisturiser - Cleanse Skin Thoroughly. Apply All Over The Face, Arms And Neck In The Morning And At Night. Makes A Perfect Make-Up Base.

Mint Lip Balm - Clean Lip Gently And Use Your Fingers To Apply The Lip Balm To Your Lips.

Strawberry Shower Gel - Turn on the shower and step inside Pour some gel onto a ponge or washcloth Lather the soap Gently scrub yourself all over Rinse it all off.



Foot Scrub :- Soak Your Feet In Warm Water For 5 Minutes. Massage Scrub Gently In Circular Motion Around The Foot. Wipe Away Scrub With A Warm Damp Towel.

Sandalwood Face Pack :- Apply A Generous Amount Of This Pack On Face And Neck, Avoiding Eyes. Relax Till Completely Dry. Rinse With Fresh Water. Follow With Vaadi Herbals Sun Shield Sunscreen Cream.
COMPLETE INGREDIENTS

Ingredients-Steam Distilled Papaya Extract (Carica Papaya Fruit Extract), Honey (Mel Extract), Sandal Extract, Vitamin E, Shea Butter (Butyrospermum Parkii Butter), Sunflower Extract ( Helianthus Annuus Extract), Mustard Oil (Brassica Nigra Oil, Fenugreek Extract (Trigonella Foenum Graecum), Jojoba Seed Grains (Simmondsia Chinensis),Lemongrass Essential Oil (Cymbopogon Schoenanthus Oil), Jojoba Oil (Simmondsia Chinensis Seed Oil), Steam Distilled Blueberry Extract (Vaccinium Angustifolium), Sweet Almond Ext, Grape Seed Extract, Coconut (Cocos Nucifera) Oil Derivatives, Vit. E,  DM Water (Aqua)
Share
View full details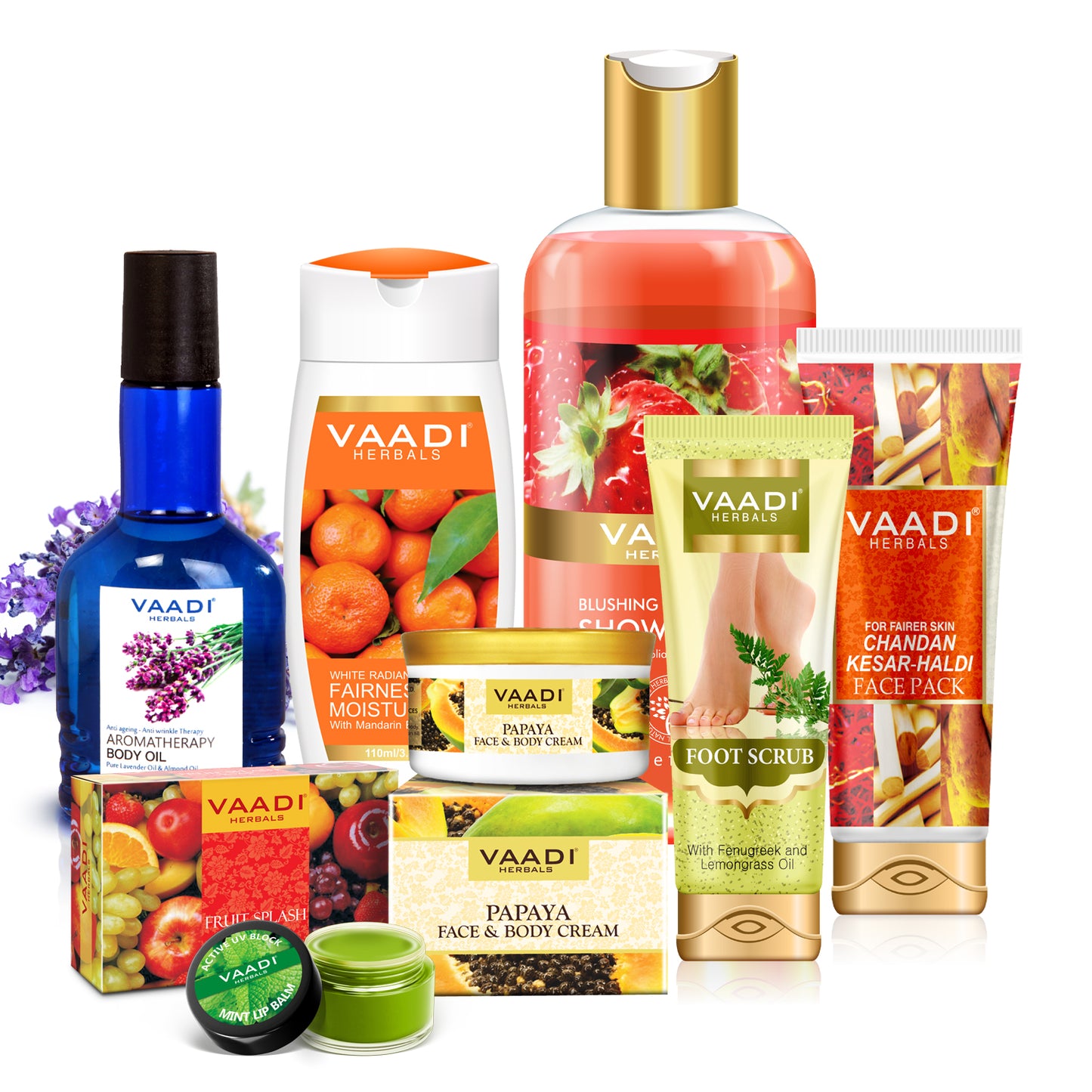 ORGANIC FARMS
Vaadi Organics is involved in very strategic procurement of a huge selection of organic ingredients for its entire range of personal care, spa, massage and aromatherapy applications. Organic ingredients are carefully selected for their quality and properties in skin, hair and complete beauty treatments. The range of ingredients sourced include therapeutic essential oils, berry seed oils, and some oils from the tropical rainforests of the Amazon.
Read More